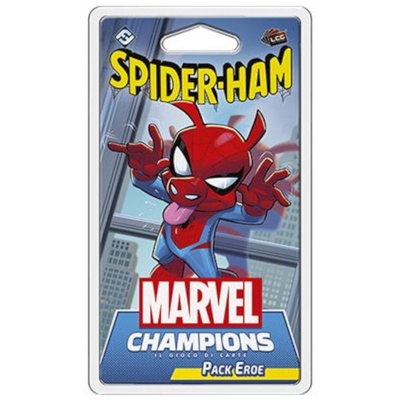 Marvel Champions LCG: Spider-Ham
€16.89
---
Product Information
| | |
| --- | --- |
| UPC | ASM9359 |
| Product Type | Gioco da Tavolo |
| Min Players | 1 |
| Max Players | 4 |
| Language | Italiano |
| Age | 14+ |
| Duration | 60 |
| Autor | Michael Boggs |
| Ean | 3558380089155 |
| Brand | Asterion - Asmodee |
| Number of reviews | 0 |
Product Description
Marvel Champions LCG: Spider-Ham è un'espansione per il Gioco da Tavolo Marvel Champions LCG completamente in Italiano.
Peter, un semplice ragno che è stato morso da un maiale radioattivo, si è trasformato in un suino antropomorfo. 
Con le spettacolari capacità di un aracnide e i limiti fisici di un maiale, Spider-Ham ha dedicato la sua vita a combattere le ingiustizie!
 
Questo pack eroe da 60 carte include un mazzo Spider-Ham precostruito insieme a:
Nuove carte da poter aggiungere a qualsiasi altro mazzo eroe di Marvel Champions.
Un nuovo set modulare che può essere aggiunto a qualsiasi scenario.
Un set nemesi dedicato a Gobbler
Carte e Bustine Protettive:

    60 carte - misura 63,5x88
Descriizone BGG:
Greetings, citizens! You've met high-flying heroes, super-genius scientists, and cosmic sorcerers. You've seen awe-inspiring Avengers, grandstanding Guardians, and wondrous Web-Warriors. Now, it's time for the porcine powerhouse, the spectacular super-pig, the wacky web-slinger, the one and only…Spider-Ham! This cartoon wonder WHAMs his way into players' games of Marvel Champions: The Card Game with zany aplomb. Utilizing his wacky cartoon physics and goofy antics, Spider-Ham can take hits like a champ and thwart villains' schemes with all sorts of colorful nonsense. With this Hero Pack, players will find Spider-Ham, his fifteen signature cards, and a full assortment of Justice cards inviting them to ruin the villains' plans. This pack also includes a bonus modular encounter set featuring the iconic and terrifying Inheritors.
For players ready to challenge the Sinister Six, they can get started with the Spider-Ham Hero Pack! This expansion comes with a 40-card pre-built deck, giving players the chance to start playing right out of the box.
Customer Reviews
This product does not have any reviews yet.
Recommended items