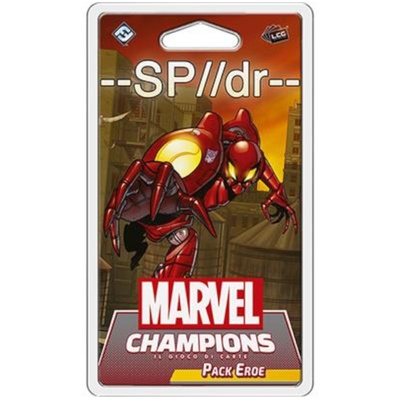 Marvel Champions LCG: Sp//dr
€16.89
---
Product Information
| | |
| --- | --- |
| UPC | ASM9360 |
| Product Type | Gioco da Tavolo |
| Min Players | 1 |
| Max Players | 4 |
| Language | Italiano |
| Age | 14+ |
| Duration | 60 |
| Autor | Michael Boggs |
| Ean | 3558380089148 |
| Brand | Asterion - Asmodee |
| Number of reviews | 0 |
Product Description
Marvel Champions LCG: Sp//dr è un'espansione per il Gioco da Tavolo Marvel Champions LCG completamente in Italiano.
Dopo la misteriosa morte del padre, Peni Parker è diventata la pilota della tuta SP//dr.
Assieme al suo copilota aracnide, con cui condivide un legame psichico, SP//dr difende i cittadini di New York dagli attacchi di nemici piccoli e grandi, talvolta viaggiando attraverso il multiverso per aiutare altri Spider-eroi a salvare l'esistenza stessa.
 
Questo pack eroe da 60 carte include un mazzo SP // dr precostruito insieme a:
Nuove carte da poter aggiungere a qualsiasi altro mazzo eroe di Marvel Champions.
Un nuovo set modulare che può essere aggiunto a qualsiasi scenario.
Un set nemesi dedicato a M.O.R.B.I.U.S.!
Descrizione BGG:
After her father's mysterious death, Peni Parker became the new pilot of the SP//dr suit. Alongside her arachnid co-pilot, with whom she is psychogenetically linked, SP//dr defends the citizens of New York City from attacks big and small, and sometimes even travels across the Multiverse to aid fellow Spider-heroes in saving existence itself.
Fantasy Flight Games is excited to announce the SP//dr Hero Pack for Marvel Champions: The Card Game!
This high-powered hero suits up for battle in this expansion pack, which introduces SP//dr as a new playable hero along with her seventeen signature cards. With a pre-built Protection deck ready to play from startup, you'll be able to bulldoze the villains with SP//dr's high-tech suit from the moment you open the box. With a plethora of upgrades giving her a unique resource engine, SP//dr is a one-of-a-kind web-warrior who can adapt to any scenario.
This hero pack also includes a bonus modular encounter set featuring the Iron Spider's Sinister Six!
Customer Reviews
This product does not have any reviews yet.
Recommended items