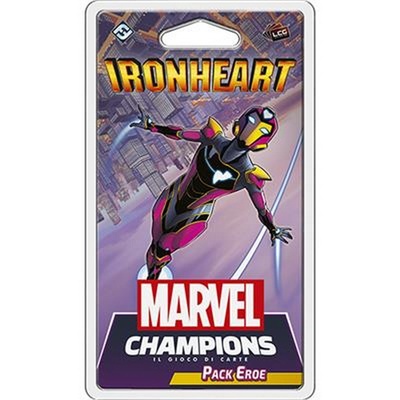 Marvel Champions LCG: Ironheart
€16.89
---
Product Information
| | |
| --- | --- |
| UPC | ASM9358 |
| Product Type | Gioco da Tavolo |
| Min Players | 1 |
| Max Players | 4 |
| Language | Italiano |
| Age | 14+ |
| Duration | 60 |
| Autor | Michael Boggs |
| Ean | 3558380089162 |
| Brand | Asterion - Asmodee |
| Number of reviews | 0 |
Product Description
Marvel Champions LCG: Ironheart è un'espansione per il Gioco da Tavolo Marvel Champions LCG completamente in Italiano.
Pack eroe da 60 carte che include un mazzo Ironheart precostruito insieme a:
Nuove carte da poter aggiungere a qualsiasi altro mazzo eroe di Marvel Champions.
Un nuovo set modulare che può essere aggiunto a qualsiasi scenario.
Un set nemesi dedicato a Lucia Von Bardas.
Descrizione BGG:
After a senseless act of violence took the life of her best friend and of her stepfather, Riri Williams used her supergenius intellect to reverse-engineer Tony Stark's Iron Man design and create her very own power armor. Now she soars the skies as Ironheart, determined to rid the world of cruel fates like the one she once endured.
This high-tech hero boosts into battle in this expansion pack, which introduces Ironheart as a new playable hero along with her fifteen signature cards. With a pre-built Leadership deck ready to play from the get-go, you'll be able to face down villains with Ironheart's arsenal of armors from the moment you open the box. With the unique ability to gradually and permanently "level up" her armor for the rest of the scenario, Ironheart is a fantastic hero who can put in serious work for any team.
Customer Reviews
This product does not have any reviews yet.
Recommended items