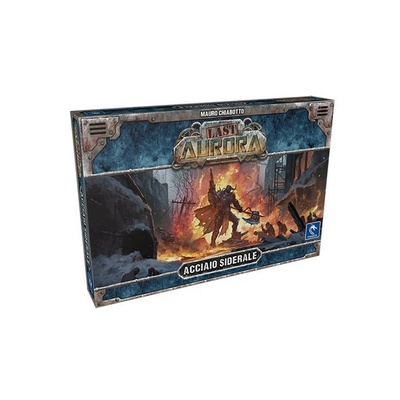 Last Aurora: Acciaio Siderale
€17.49
---
Product Information
| | |
| --- | --- |
| UPC | PENPG070 |
| Product Type | Gioco da Tavolo |
| Min Players | 2 |
| Max Players | 4 |
| Language | Italiano |
| Age | 14+ |
| Ean | 8058697270802 |
| Duration | 75 |
| Autor | Mauro Chiabotto |
| Brand | Pendragon |
| Number of reviews | 0 |
Product Description
Last Aurora: Acciaio Siderale è un'espansione per il Gioco da Tavolo Last Aurora completamente in Italiano.
Un nuovo clan di nemici è apparso sulla strada che porta all'Aurora: il clan di Asgaror. Questo temibile gruppo è diventato in poco tempo uno dei maggiori pericoli delle terre desolate. La sua superiorità deriva dalle armi e dalle armature che veste, forgiate da un misterioso metallo recuperato da un'astronave aliena caduta sulla terra molti anni fa…
Acciaio Siderale è la seconda espansione per Last Aurora. Questa espansione introduce 5 moduli indipendenti:
1) 4 equipaggi iniziali con abilità asimmetriche;
2) un mazzo di potenti Nemici molto difficili da sconfiggere, che includono nuove carte Bottino;
3) un mazzo di nuove carte Esplorazione (Motrici, Rimorchi, Dispositivi,Sopravvissuti, Eventi, Incontri e Oggetti con nuovi effetti;
4) le regole giocatore contro giocatore, che permettono ai giocatori di combattersi tra loro;
5) un mazzo di carte storia, che aggiunge un elemento narrativo al gioco con cui i giocatori dovranno affrontare scelte difficili, risolvere missioni e molto altro!
Elementi di Gioco:
22 carte Esplorazione (con I, II, III sul retro)
12 carte Oggetto
6 carte Nemico
6 carte Bottino
8 carte Sopravvissuto (con la S sul retro)
40 carte Storia (con I, II, III sul retro)
4 carte PVP
12 carte Esito
Descrizione BGG:
Frozen Steel is the second expansion of Last Aurora.
The game introduces 5 independent modules (compatible with each other):
- 4 starting crew with asymmetrical abilities;
- a set of enemies, very powerful and hard to kill;
- a set of new exploration cards (vehicle, trailers, devices, survivors, events, encounters, objects with new powers and abilities);
- player versus player set, which let players to fight other Convoy;
- a deck of story cards, which introduce a narrative part during the game, in which player must face hard decisions, resolve missions and much more.
Customer Reviews
This product does not have any reviews yet.
Recommended items