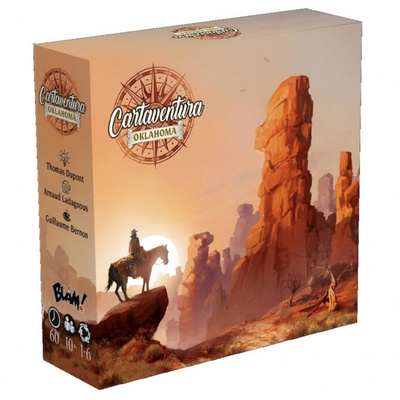 Cartaventura - Oklahoma
€13.49
---
Product Information
| | |
| --- | --- |
| UPC | PLGCARTOKL |
| Product Type | Gioco da Tavolo |
| Ean | 8056209950013 |
| Min Players | 1 |
| Max Players | 6 |
| Language | Italiano |
| Age | 10+ |
| Duration | 60 |
| Autor | Arnaud Ladagnous |
| Brand | Playagame |
| Number of reviews | 1 |
Product Description
Cartaventura - Oklahoma è un Gioco da Tavolo in Italiano di Arnaud Ladagnous edito da Playagame.
Cartaventura - Oklahoma è un gioco per 1-6 giocatori della durata di circa 60 minuti raccomandato da 10 anni in su.
Cartaventura - Oklahoma è ambientato negli Stati Uniti nel 1854. Io tuo nome è Bass Reeves e stai per compiere 23 anni. Nato schiavo, figlio e nipote di schiavi, ti sei logorato le mani fin da piccolo nei campi di cotone e di canna da zucchero. Sai che presto riuscirai a scappare e poi... succeda quel che succeda! Troverai il campo indiano? Diverrai uno sceriffo? Vincerai al poker? Riuscirai a sfuggire al tuo ex padrone? Troverai la strada per la libertà?
Cartaventura è una raccolta di giochi di carte narrativi con una trama coinvolgente e finali multipli. I giocatori costruiscono, carta dopo carta, la loro avventura tramite una mappa che offrirà diverse opzioni, collaborando sulle scelte migliori da compiere per seguire le orme dell'eroe del gioco. Ogni uscita della serie Cartaventura sarà ambientata in un'epoca diversa e i giocatori potranno immergersi nella storia grazie alle ricche descrizioni degli scenari e alle illustrazioni ad acquarello. Un libretto storico, scritto in collaborazione con specialisti del tema trattato, fornisce ulteriori informazioni e curiosità.
Il semplice sistema di gioco vi permetterà di immergervi immediatamente nella storia e di esplorare più volte lo scenario per svelarne tutti i segreti. Infatti, grazie a quanto appreso, i giocatori potranno ottimizzare la loro avventura compiendo scelte diverse per scoprire ogni possibile finale del gioco.
Descrizione BGG:
Cartaventura is a narrative card game in which players build an adventure using cards that can offer them different choices during play. Map cards are placed in the middle of the table. Around these map cards, players place action cards, with them consulting one another to decide the best choice to make from those available: draw a card, turn over a card, discard, etc. Urgent cards, which should be read entirely before doing anything else, can change the game in an instant. Object cards are placed in front of players and can be useful throughout the game. The game includes a tutorial to accompany the first game, and its simple and original playing system allows you to explore the scenario several times before discovering all of the game's secrets.
In Cartaventura: Oklahoma, it's 1854 in the United States. Your name is Bass Reeves, and you are about to turn twenty-three years old. Born a slave, the son and grandson of slaves, you spent your early years working your fingers to the bone in cotton and sugarcane fields. One day soon, you know you'll escape and then...whatever happens, happens! Will you find the Indian camp? Will you become a Marshall? Can you win the poker game? Can you escape your former master? Can you find your way to freedom?
Customer Reviews
Cartaventura sono una sicurezza: da giocare in solo o in coop, affrontano tematiche diverse ma sempre avvincenti. Illustrazioni molto belle. Ottimo MagicMerchant, spedizione velocissima! A +

Reviewed by Raffaella Maffei on May 24, 2022, 1:30 p.m. | Permalink

This review has no votes.
Recommended items