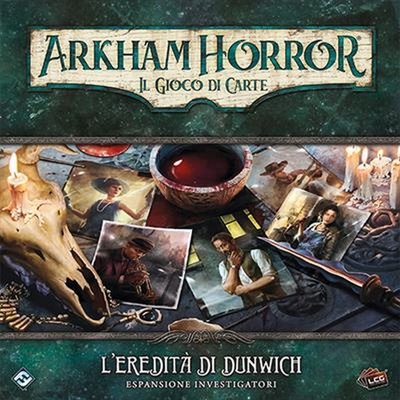 Arkham Horror LCG - Revised: L'Eredità di Dunwich - Investigatori
€39.89
€29.92 (-25%)
---
Product Information
| | |
| --- | --- |
| UPC | ASM9672 |
| Product Type | Gioco da Tavolo |
| Min Players | 1 |
| Max Players | 4 |
| Language | Italiano |
| Age | 14+ |
| Ean | 3558380094708 |
| Duration | 90 |
| Autor | Nate French |
| Brand | Asterion - Asmodee |
| Number of reviews | 0 |
Product Description
Arkham Horror LCG - Revised: L'Eredità di Dunwich - Investigatori è un'espansione per il Gioco da Arkham Horror LCG - Revised Core Set completamente in Italiano.
Nei luoghi di potere dove lo spazio ordinato decade lasciando al suo posto il vuoto, ci sono cultisti senza scrupoli pronti ad evocare abomini oltre ogni immaginazione, ma ci sono anche alcune persone coraggiose pronte a rischiare la vita per mettere fine a questi orrori.

Questa espansione presenta 5 investigatori e contiene tutte le carte giocatore e le opzioni di personalizzazione originariamente presenti nel ciclo L'Eredità di Dunwich.

Abbattete gli abomini con la cuoca Zoey Samaras, fiutate una buona storia con il reporter Rex Murphy, usate denaro e ingegno per risolvere qualsiasi problema con la dilettante Jenny Barnes, parlate con i morti ed eseguite riti lugubri con il musicista Jim Culver e andate in cerca di guai con il vagabondo "Ashcan" Pete e il suo fidato segugio Duke.

L'espansione investigatori L'Eredità di Dunwich può essere usata per comporre o potenziare i mazzi degli investigatori per qualsiasi scenario o campagna di Arkham Horror LCG.
Contenuto: 5 Carte Investigatore, 5 Mini Carte, 204 Carte Giocatore, 1 Regolamento.
Carte e Bustine Protettive:

    209 carte - misura 63,5x88
      5 carte - misura 41x63
Descrizione BGG:
A repackaging of the Dunwich Legacy cycle. All of the player cards for the cycle can be found in the Dunwich Legacy Investigator Expansion while all the encounter cards and campaign cards can be found in the Dunwich Legacy Campaign Expansion.
—user summary
The Dunwich Legacy is a deluxe expansion for Arkham Horror: The Card Game.
Several months ago, three Miskatonic University professors armed themselves with secret knowledge, traveled to Dunwich, and brought an end to the strange and terrifying creature that had been terrorizing the secluded village. Their heroic efforts brought peace to the region—for a while—but also left the men scarred by the horrors they had witnessed. Now, one of those professors, Dr. Armitage, has need of your assistance. His colleagues have gone missing, and he fears the worst…
The Dunwich Legacy challenges you to find the missing professors and launches you into a campaign that leads to Miskatonic University, the notorious Clover Club, and beyond. Five new investigators arrive to offer their services, armed with fifty-nine new player cards (including a complete playset of each) that allow you to pursue new deck-building strategies and new styles of play. Finally, you'll find all manner of new terrors arrayed against you—from backroom thugs and bad luck to arcane hexes and wholly unnatural abominations.
Customer Reviews
This product does not have any reviews yet.
Recommended items