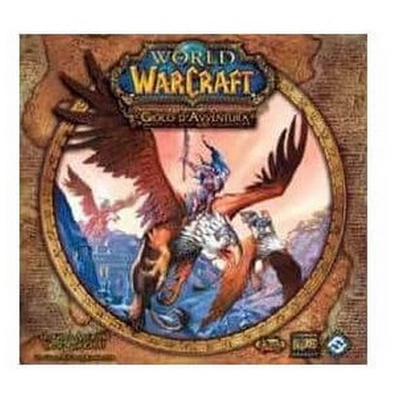 WORLD OF WARCRAFT : IL GIOCO D'AVVENTURA
€39.89
---
Product Information
| | |
| --- | --- |
| UPC | GU0124 |
| Product Type | Gioco da Tavolo |
| Min Players | 2 |
| Max Players | 4 |
| Language | Italiano |
| Age | 12+ |
| Duration | 90 |
| Autor | Daniel Clark |
| Ean | 8033772891011 |
| Brand | Giochi Uniti |
| Number of reviews | 0 |
Product Description
La Terra di Azeroth è una terra d'avventure. E' un mondo fantastico, un universo di potenti eroi e mostri spaventosi. E' il mondo di... Warcraft.

Avventuratevi in Azeroth con il nuovo World of Warcraft: Il Gioco d'Avventura. Giocate una delle nove potenti classi come il Guerriero, il Cacciatore o lo Sciamano, e otto esotiche razze, che spaziano dagli aggraziati Elfi Notturni ai bestiali Tauren. Apritevi la strada tra le nevi di Winterspring, perdetevi nelle tempeste di sabbia di Tanaris, e viaggiate nelle sconfinate pianure di Mulgore. Combattete i mostri più disparati, dai Murloc simili a pesci ai servitori infernali della Burning Legion.

World of Warcraft: Il Gioco d'Avventura è un viaggio e combattivo attraverso il mondo di Warcraft. Porta il tuo personaggio dalle più umili origini alle massime vette di potere, sfida mostri mortali e gli attacchi degli altri giocatori, sarai tu ad emergere vittorioso? 

World of Warcraft: Il Gioco d'Avventura è un gioco da tavolo competitivo per 2-4 giocatori, con eccellente componentistica che include miniature di plastica d'alta qualità.
Vari personaggi giocatori con dettagliate miniature di plastica rappresentanti le razze e le classi dell'universo di World of Warcraft.
Avventure competitive, affrontando gli altri giocatori e i pericolosi abitanti di Azeroth.
Sistema di gioco accessibile e divertente.
Customer Reviews
This product does not have any reviews yet.