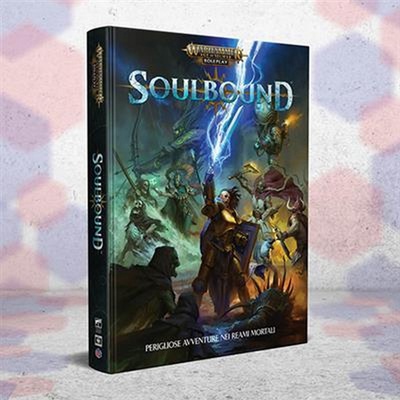 Warhammer Age of Sigmar RPG: Soulbound
€54.89
---
Product Information
| | |
| --- | --- |
| UPC | ASM5031 |
| Product Type | Gioco di Ruolo |
| | Italiano |
| | 9791280692146 |
| | Need Games |
| Number of reviews | 0 |
Product Description
Non appena la Tempesta di Sigmar si abbatté sulle orde del Caos, un barlume di speranza si riaccese negli abitanti dei Reami Mortali. I semi di una nuova civiltà furono piantati e crebbero in nuovi bastioni dell'Ordine, e per un momento sembrò che si potesse tenere a bada l'ondata di oscurità senza fine.

Poi però ci fu il Necrosisma, e le legioni nonmorte di Nagash sorsero per devastare le città di Sigmar.

La speranza sta scemando e ancora una volta l'oscurità minaccia di travolgere i Reami Mortali…

Esplorate i Reami Mortali nel primo Gioco di Ruolo da tavolo ambientato nel mondo di Warhammer Age of Sigmar.
Siete dei Vincolati: eroi scelti dagli dei per ergersi contro gli orrori che infestano i Reami Mortali, incaricati di prevenire una nuova età di Caos, Morte e Distruzione. Forgiate il vostro gruppo scegliendo tra alcuni dei più potenti eroi dei reami e respingete bande erranti di cannibali, legioni di nonmorti e orde di demoni in una disperata lotta per la sopravvivenza.

Warhammer Age of Sigmar: Soulbound contiene tutto quello che vi serve per ruolare perigliose avventure nell'epica ambientazione dei Reami Mortali.
Customer Reviews
This product does not have any reviews yet.
Recommended items