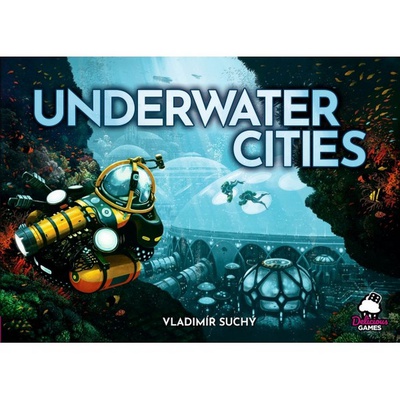 Product Information
| | |
| --- | --- |
| UPC | MS89412 |
| Product Type | Gioco da Tavolo |
| Ean | 8051772100179 |
| Min Players | 1 |
| Max Players | 4 |
| Language | Italiano |
| Age | 12+ |
| Duration | 120 |
| Autor | Vladimír Suchý |
| Brand | MS Edizioni |
| Number of reviews | 0 |
Product Description
Con Underwater Cities avrete l'occasione di colonizzare i fondali oceanici con una pionieristica città grazie alla quale potrete permettere alla popolazione mondiale di traslocare gradualmente sul fondo del mare. Utilizzate al meglio le vostre carte posizionandole su una serie di spazi colorati sulla plancia di gioco. Ciascuna carta vi darà accesso ad alcune azioni che, se giocate sugli spazi del colore corrispondente, vi daranno la possibilità anche di utilizzare l'azione specifica dello slot utilizzato.
In questo modo avrete l'occasione di colonizzare la vostra plancia personale con una serie di cupole abitative e di miglioramenti tecnologici, oltre a stazioni di raccolta risorse oceaniche, di coltivazione ed allevamento e di tunnel per collegare le varie cupole.
Le vostre scelte vi permetteranno di rendere l'oceano un luogo abitabile ed utilizzando nel miglior modo possibile le vostre carte e la vostra dotazione di risorse riuscirete ad emergere vittoriosi ed essere proclamati vincitori e salvatori della specie umana.
All of the nearly 220 cards — whether special or basic — are divided into four types according to the way and time of use. Underwater areas are planned to be double-sided, giving players many opportunities to achieve VPs and finally win.
Customer Reviews
This product does not have any reviews yet.
Recommended items