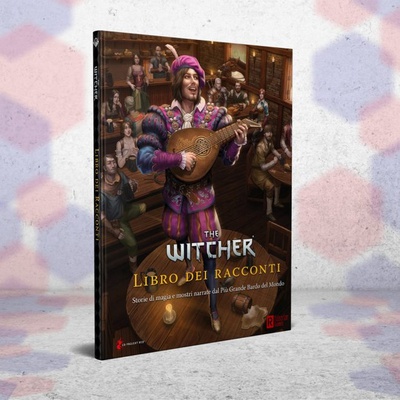 The Witcher - Il Gioco di Ruolo: Libro dei Racconti
€34.89
---
Product Information
| | |
| --- | --- |
| UPC | ASMWCR-005 |
| Product Type | Gioco di Ruolo |
| | 9791280692016 |
| | Italiano |
| | Need Games |
| Number of reviews | 0 |
Product Description
Il Libro dei Racconti è un supplemento per il gioco di ruolo di The Witcher e include sei avventure, che è possibile riunire in una campagna che copre l'intero Continente, con mappe, materiale aggiuntivo per i giocatori e, soprattutto, nuovi mostri.
All'interno di questo manuale troverete:
Sei Avventure: vivrete emozioni in tutto il Continente. Da un misterioso omicidio nel cuore di Monte Carbon a scontri all'ultimo sangue nell'Arena di Claremont, fino a un'indagine nella brumosa foresta dell'Alderwood!
Nuovo Materiale per i Giocatori: armi, incantesimi e tre nuove specie giocabili con cui arricchire le vostre partite: gnomi, vran e bobolak!
Un'Unica Campagna: accompagnate i giocatori in un grande viaggio attraverso il Continente, collegando le sei avventure in un'unica impresa.
Il gioco di ruolo di The Witcher vi permetterà di calarvi in una della ambientazioni fantasy videoludiche di maggior successo degli ultimi anni! Grazie a questo innovativo gioco di ruolo basato sul sistema Fuzion, in grado di supportare gruppi di gioco hardcore ma anche giocatori alle prime armi nel mondo dell'interpretazione, avrete l'occasione di conoscere a fondo il mondo di Geralt di Rivia.
Customer Reviews
This product does not have any reviews yet.
Recommended items