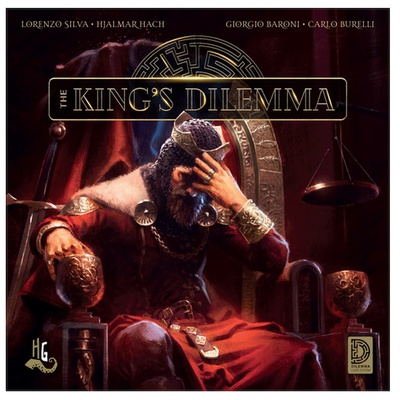 The King's Dilemma
€69.89
---
Product Information
| | |
| --- | --- |
| UPC | GHE13674 |
| Product Type | Gioco da Tavolo |
| Ean | 8033609531196 |
| Min Players | 3 |
| Max Players | 5 |
| Language | Italiano |
| Age | 14+ |
| Duration | 60 |
| Autor | Hjalmar Hach |
| Brand | Ghenos Games |
| Number of reviews | 0 |
Product Description
The King's Dilemma è un Gioco da Tavolo in Italiano di Hjalmar Hach edito da Ghenos Games.
The King's Dilemma è un gioco per 1-5 giocatori della durata di circa 60 minuti raccomandato da 14 anni in su.
The King's Dilemma è un'esperienza unica, narrativa e interattiva, che presenta diverse trame ramificate che portano a molti possibili finali. Nel gioco, i giocatori rappresentano le varie fazioni che guidano il governo del regno: mercanti, studiosi, sacerdoti, ecc. I giocatori pescanocarte dal mazzo comune e sperimentano la storia del gioco. Ogni carta pone un problema che il consiglio deve risolvere a nome del re. Come membri della cerchia ristretta del re, le decisioni dei giocatori plasmano la storia del gioco e determinano il destino del regno. Devono discutere, contrattare e prendere decisioni che influenzeranno la storia del regno causando la rimozione permanente delle carte dal mazzo o l'aggiunta di nuove carte al mazzo. I giocatori devono mantenere il regno in corso, cercando anche di avvantaggiare la propria fazione. Questa lotta per il potere può condurre il regno alla guerra, alla carestia o a disordini, oppure può generare ricchezza e benessere. Dipenderà dalle vostre scelte! Il fatto è che ogni decisione ha delle conseguenze, e ciò che è buono per il regno nel suo complesso può essere negativo per la vostra fazione. Agirai per il bene comune o penserai per te stesso?
Customer Reviews
This product does not have any reviews yet.