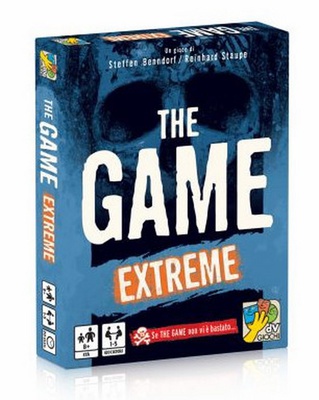 THE GAME EXTREME Gioco da Tavolo
€10.89
---
Product Information
| | |
| --- | --- |
| UPC | DVG9335 |
| Product Type | Gioco da Tavolo |
| Ean | 8032611693359 |
| Min Players | 1 |
| Max Players | 5 |
| Language | Italiano |
| Age | 8+ |
| Duration | 20 |
| Brand | Da Vinci |
| Number of reviews | 0 |
Product Description
The Game Extreme è un gioco a sé stante per 1-5 giocatori da 8 anni in su, con le stesse regole dell'originale. Nel corso della partita si formano quattro mucchietti di carte. Due hanno i numeri crescenti da 1 a 99, gli altri due i numeri decrescenti da 100 a 2. Tutti giocano insieme nella stessa squadra e cercano di calare sui quattro mucchietti il maggior numero di carte, rispettando l'ordine oppure invertendolo con la "mossa al contrario".
Nel gioco The Game Extreme sono incluse 28 carte "comando" che daranno del filo da torcere anche ai giocatori più scafati. Se giochi una carta comando, i giocatori dovranno eseguire il comando esattamente, o la partita è persa!
Per appassionati del gioco base e per giocatori ostinati, The Game Extreme è una sfida irrinunciabile: battere il gioco sembrerà davvero impossibile, e solo con un gruppo affiatato e tenace i giocatori potranno sperare di spuntarla.
Customer Reviews
This product does not have any reviews yet.