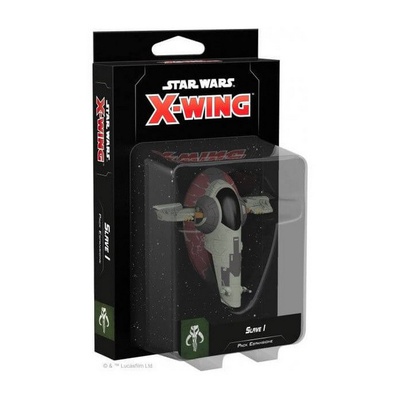 STAR WARS X-WING 2ed : SLAVE I Miniatura Espansione Gioco da Tavolo
€29.89
In stock (1 available)
---
Product Information
| | |
| --- | --- |
| UPC | AST11070 |
| Product Type | Gioco da Tavolo |
| Availability | In stock (1 available) |
| Ean | 3558380056324 |
| Min Players | 2 |
| Max Players | 2 |
| Language | Italiano |
| Age | 14+ |
| Duration | 45 |
| Autor | Jason Little |
| Brand | Asterion - Asmodee |
| Number of reviews | 0 |
Product Description
Slave I è un pack di espansione per la seconda edizione del gioco di miniature di Star Wars X-Wing.
Si tratta di una delle navi più temute in assoluto nella galassia, non tanto per le peculiari caratteristiche di questa navetta d'attacco e ricognizione di classe Firespray-31 realizzata dalla Kuat Systems Engineering, quanto per chi nel tempo l'ha pilotata. Il cacciatore di taglie mandaloriano Jango Fett la ottenne nel corso di una delle sue missioni prima della Guerra dei Cloni e successivamente ne apportò alcune modifiche per renderla ancora più letale. Dopo la sua morte ad opera di Mace Windu, la navetta venne ereditata dal figlio clonato di Jango, Boba Fett, che ne seguì le orme professionali. La Slave I compare nella saga per la prima volta nell'Episodio V, con Boba all'inseguimento di Han Solo e del suo Falcon per incassarne la taglia richiesta da Jabba the Hutt.
Customer Reviews
This product does not have any reviews yet.