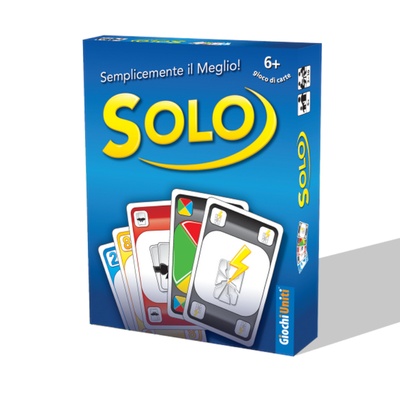 Product Information
| | |
| --- | --- |
| UPC | GU717 |
| Product Type | Gioco da Tavolo |
| Min Players | 2 |
| Max Players | 10 |
| Language | Italiano |
| Age | 6+ |
| Duration | 30 |
| Autor | Thomas Pauli |
| Ean | 8058773207968 |
| Brand | Giochi Uniti |
| Number of reviews | 1 |
Product Description
Solo è un Gioco da Tavolo in Italiano di Thomas Pauli edito da Giochi Uniti.
Solo è un gioco per 2-10 giocatori della durata di circa 30 minuti raccomandato da 6 anni in su.
Solo è un avvincente gioco di carte, che ti coinvolgerà con i suoi repentini colpi di scena. Non essere gentile con i tuoi avversari, perché loro non lo saranno con te! Ti ritroverai infatti coinvolto in una tempesta di carte che ti rallenteranno o che ti costringeranno a scambiare inaspettatamente il tuo mazzo con quello dei tuoi avversari. Hai a disposizione 8 carte, che possono aumentare vertiginosamente a causa dei "prendi 2" o "prendi 4" carte che possono essere usati contro di te in qualsiasi momento. Cerca di rispondere ai colpi dei tuoi avversari e termina tutte le carte. Non dimenticarti di gridare "Solo" quando te ne resta solo una in mano!
Descrizione BGG:
"Each player gets eight cards. The player who is the first one to put all his cards on the table is the winner. But Beware! There are peculiar action cards which can turn everything upside down. SOLO is a new variant of Mau-Mau with special action cards, that will guarantee a lot of fun."
Each turn, a player can put a card with the same colour or number or action symbol as the card played previously. The special action cards allow players to:
* Miss a turn - next player misses their turn
* Change direction - the order of play is reversed
* Take 2 - next player draws two cards
Customer Reviews
Chi non conosce UNO o meglio il classico "crazy eight" in questa rivisitazione di uno avremo ciascuno in mano 8 carte di cui liberarci e cosi' come in UNO si potrà invertire la direzione del turno, far prendere carte all'avversario e così via dicendo, il twist del gioco è rappresentato da due peculiarità , la prima che è possibile al proprio turno decidere di non giocare alcuna carta dalla propria mano ma estrarne la prossima dal mazzo di pesca sperando che gli avversari non la abbiamo cercando cosi' di rallentarli ma rischiando in caso potessero "rispondere" di portarli avanti di un turno, il secondo a mio avviso il più interessante il cosidetto "cambio di dama" potremo infatti costringere un avversario a scambiare le sue carte in mano con le nostre oppure creare un effetto domino nel cambio di carte dove tutti i giocatori saranno costretti a cambiare la propria mano di carte con il vicino a seconda della direzione del turno, il casino e il colpo di scena è assicurato!!! consigliato agli irriducibili di UNO che desiderano inserire una maggiore componente di rischio e creare giri "pazzi" di carte. Buon Gioco!

Reviewed by Maria Accordino on April 14, 2022, 4:38 p.m. | Permalink

This review has no votes.