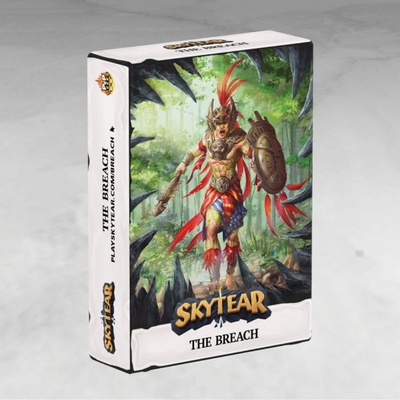 Skytear: The Breach
€23.89
---
Product Information
| | |
| --- | --- |
| UPC | GOGBREACH |
| Product Type | Gioco da Tavolo |
| Language | Italiano |
| Age | 13+ |
| Duration | 90 |
| Autor | Andrea Barbari |
| Brand | Gate On Games |
| Number of reviews | 0 |
Product Description
The Breach è un pack di carte per il gioco di miniature di Skytear che aggiunge 4 nuove carte Vittoria e 60 nuove carte Potere in triplice copia.
Skytear è un originale gioco di miniature a schermaglie ispirato ai più celebri MOBA (Multiplayer Online Battle Arena) in cui avrete l'occasione di visitare il mistico mondo di Olan Taa, un luogo in cui una serie di civiltà vivono segregate su alcune isole fluttuanti attorno al nucleo di Skytear, pura energia che sostiene ed alimenta questo universo. I Reami in cui si sono organizzate alcune di queste civiltà hanno giurato fedeltà ad altrettante divinità, con le quali mirano ad ottenere il dominio di tutta Skytear, attirando a sé l'energia tramite alcuni potenti magneti arcani. Gli incontri un tempo pacifici si sono tramutati in scontri, in cui ogni Reame invia i propri eroi per reclamare la potente energia del Nucleo centrale. Gli eroi più abili sono diventati delle vere e proprie leggende, idolatrati dalla propria gente e contesi dai Reami avversari.
Customer Reviews
This product does not have any reviews yet.
Recommended items