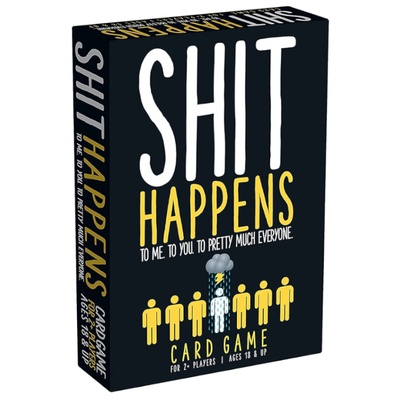 Shit Happens - Il Gioco della Sfiga
€22.89
---
Product Information
| | |
| --- | --- |
| UPC | DT021414 |
| Product Type | Gioco da Tavolo |
| Min Players | 2 |
| Max Players | 8 |
| Language | Italiano |
| Age | 18+ |
| Duration | 40 |
| Autor | Andy Breckman |
| Ean | 8711808765511 |
| Brand | Dal Tenda |
| Number of reviews | 0 |
Product Description
Shit Happens - Il Gioco della Sfiga è un Gioco da Tavolo in Italiano di Andy Breckman edito da Dal Tenda.
Shit Happens - Il Gioco della Sfiga è un gioco per 2-8 giocatori della durata di circa 40 minuti raccomandato da 18 anni in su.
In Shit Happens, collezionerai carte su situazioni davvero improbabili e proverai a classificarle correttamente sullo Shit-o-metro! Una scala di sfighe appositamente studiata da un team di esperti. Indovina correttamente il valore di Sfiga di una carta per vincerla. Vince il primo giocatore che colleziona 10 carte!
Avvertenze
Gioco esclusivam87ente  per adulti, tenere fuori dalla portata dei minori, il contenuto potrebbe turbare.
Descrizione BGG:
Shit Happens is as funny and surprising and crazy as REAL LIFE. Each card depicts a horrible event that has happened- or COULD happen- to you. Like: BEING ATTACKED BY A SWARM OF BEES or SEEING YOUR FATHER NAKED. A panel of mental health experts has rated them all, from 1 to 100. Players have to put ten cards in their correct order. 
Customer Reviews
This product does not have any reviews yet.