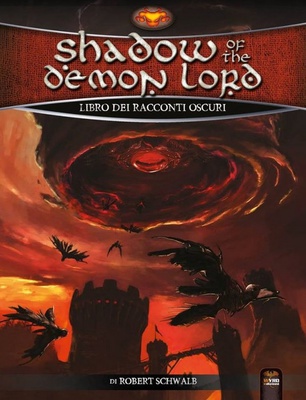 SHADOW OF THE DEMON LORD : LIBRO DEI RACCONTI OSCURI Gioco di Ruolo
€16.89
---
Product Information
| | |
| --- | --- |
| UPC | WRD0702 |
| Product Type | Gioco di Ruolo |
| | Italiano |
| | 9788869810466 |
| | Wyrd Edizioni |
| Number of reviews | 0 |
Product Description
Libro dei Racconti Oscuri è un manuale di supplemento per il gioco di ruolo Shadow of the Demon Lord in cui potrete trovare 11 oscure ed appassionanti avventure da poter vivere con il vostro gruppo di gioco. La storia di ciascuna avventura è collegata alle altre, permettendovi di vivere questo manuale come una vera e propria campagna di gioco, portando i vostri personaggi dall'inizio della loro storia fino ai limiti dei loro percorsi da maestro, oppure possono usarle singolarmente per raccontare un diverso arco narrativo.
La fine sembra ormai prossima, folli profeti narrano di oscuri presagi per le strade di Crocevia. Al di fuori delle mura l'orrore dilaga, sorgono strani culti nelle terre esterne mentre eserciti di non morti si radunano nel lontano nord. La fine è davvero così vicina?
Oltre alle avventure, in questo supplemento troverete informazioni dettagliate sulla città di Crocevia e nuove creature che terrorizzano gli abitanti delle Distese Settentrionali e le terre oltre i suoi confini.
Customer Reviews
This product does not have any reviews yet.