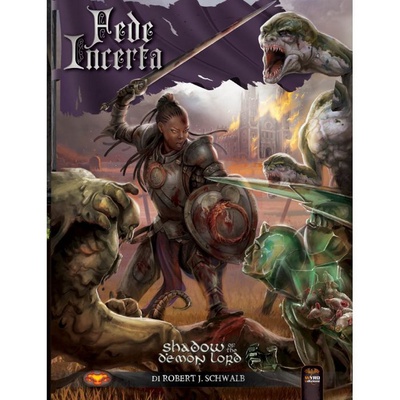 Shadow of the Demon Lord : Fede Incerta
€17.89
---
Product Information
| | |
| --- | --- |
| UPC | WRD0719 |
| Product Type | Gioco di Ruolo |
| | 9788869810916 |
| | Italiano |
| | Wyrd Edizioni |
| Number of reviews | 0 |
Product Description
Fede Incerta è un manuale di supplemento per il gioco di ruolo Shadow of the Demon Lord in cui potrete trovare un interessantissimo approfondimento sui vari culti che popolano l'universo di Shadow of the Demon Lord. Più in particolare troverete informazione sulla Vecchia Fede, incluse otto sette devote ai Vecchi Dei, sui Morti Onorati dei Nani, sulla Stregoneria, sul Culto del Nuovo Dio, gli Dei Oscuri del Sangue e del Ferro oltre ad una varietà di religioni minori, incluso il culto del Signore dei Demoni.
Shadow of the Demon Lord è un gioco di ruolo fantasy dai toni decisamente dark che vi permetterà di avventurarvi in un'ambientazione assolutamente oscura, in cui affrontare demoni e mostri partoriti dalla mente geniale di Robert J. Schwalb. Avventuratevi ai margini degli inferi per affrontare grotteschi demoni, nel tentativo di arginare la dilagante piaga del male che si sta riversando nel vostro mondo.
Customer Reviews
This product does not have any reviews yet.
Recommended items