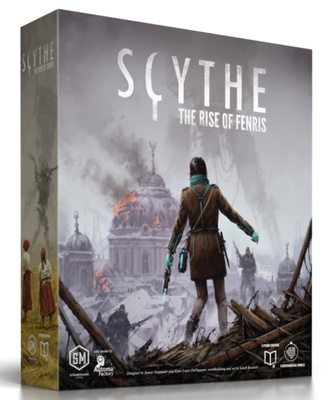 Scythe: The Rise of Fenris
€59.89
---
Product Information
| | |
| --- | --- |
| UPC | GHE096 |
| Product Type | Gioco da Tavolo |
| Ean | 35e617909c0a492c843084a6fc25f536 |
| Min Players | 1 |
| Max Players | 5 |
| Language | Italiano |
| Age | 14+ |
| Duration | 120 |
| Brand | Ghenos Games |
| Number of reviews | 0 |
Product Description
Rise of Fenris è la terza ed ultima espansione per il gioco strategico di grande successo di Scythe. Stavolta avrete a che fare con una coinvolgente campagna da 8 missioni che svelerete una dopo l'altra, in modo da vivere un'avvincente partita progressiva che tenga conto dei vostri progressi. La campagna, può tuttavia essere resettata senza problemi e giocata più volte. Troverete inoltre una serie di 11 moduli da poter utilizzare come contenuto extra della campagna, da poter integrare nelle normali partite a questo piccolo capolavoro, inclusa una modalità completamente cooperativa.
Scythe è un gioco di civilizzazione e conquista ambientato agli inizi di un '900 alternativo, dopo la fine della Prima Guerra Mondiale in cui la città stato Industria ha catturato l'attenzione dell'Europa intera grazie agli avanzati mezzi tecnologici forniti alle fazioni in guerra.
Customer Reviews
This product does not have any reviews yet.