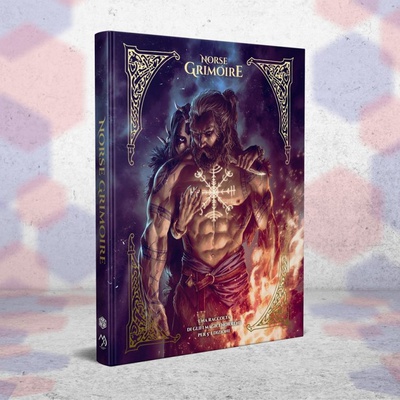 Product Information
| | |
| --- | --- |
| UPC | ASM2925 |
| Product Type | Gioco di Ruolo |
| | 9788831334495 |
| | Italiano |
| | Asterion - Asmodee |
| Number of reviews | 0 |
Product Description
NORSE GRIMOIRE è un supplemento per la quinta edizione di Dungeons nad Dragons, il gioco di ruolo più famoso al mondo, progettato per integrare i Galdrastafir (glifi magici islandesi) e l'Elder Futhark (l'alfabeto delle Rune della Conoscenza) nelle vostre sessioni di gioco e campagne.

Questo grimorio è il frutto di quasi 20 anni di lavoro e ricerca che hanno dato vita a Journey To Ragnarok, ambientazione e avventura ispirata all'epica norrena. Con Norse Grimoire potrete implementare le sessioni e i personaggi di Journey To Ragnarok, ma anche imprimere la potenza della magia norrena in qualsiasi altra ambientazione.

Questo volume migliora l'esperienza di gioco per qualunque Giocatore, che sia un Avventuriero o un Game Master, aggiungendo opzioni magiche profonde come le radici della storia e divulgando un'antica cultura che è ancora oggi un'inesauribile fonte di ispirazione.

Copertina cartonata, 192 pagine a colori.
Customer Reviews
This product does not have any reviews yet.