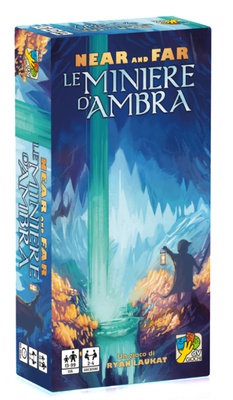 NEAR AND FAR : LE MINIERE D'AMBRA Espansione Gioco da Tavolo
€27.89
---
Product Information
| | |
| --- | --- |
| UPC | DVG9036 |
| Product Type | Gioco da Tavolo |
| Ean | 8032611690365 |
| Min Players | 2 |
| Max Players | 4 |
| Language | Italiano |
| Age | 13+ |
| Duration | 120 |
| Autor | Ryan Laukat |
| Brand | Da Vinci |
| Number of reviews | 0 |
Product Description
Le Miniere d'Ambra è un'espansione per il gioco gestionale e d'avventura di Near and Far. Questo pack contiene tutto il necessario per rendere Near and Far un gioco cooperativo in cui i vari personaggi collaborano per contrastare una serie di nemici che imperversano nelle varie mappe di gioco. Troverete inoltre una serie di moduli da poter combinare per rendere ancora più variabili le vostre partite.
All'interno sono infatti presenti le nuove carte Miniere d'Ambra per esplorare il sottosuolo, le nuove carte Incantesimo con poteri speciali, edifici aggiornati della città, con nuove azioni alla Miniera, alla Capanna del Mistico e nell'Emporio. Incontrerete inoltre 9 nuovi avventurieri, 13 nuove carte Minaccia e 4 dadi per gli esperti. Il libretto delle avventure include due nuovi scenari combinabili con le modalità di gioco Prima avventura e Campagna.
Customer Reviews
This product does not have any reviews yet.