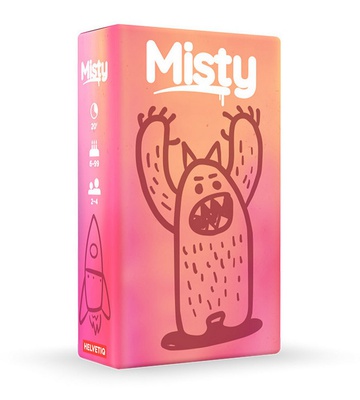 MISTY Gioco da Tavolo
€9.89
---
Product Information
| | |
| --- | --- |
| UPC | HEL134729 |
| Product Type | Gioco da Tavolo |
| Min Players | 2 |
| Max Players | 5 |
| Language | Italiano |
| Age | 6+ |
| Duration | 15 |
| Autor | Florian Fay |
| Ean | 7640139531858 |
| Brand | Helvetiq |
| Number of reviews | 0 |
Product Description
Era un oscuro e piovoso pomeriggio... La pioggia batteva sulle finestre e la nebbia stava lentamente salendo ad impedire ogni visibilità del mondo esterno. E mentre scarabocchiavi sul vetro umido, i tuoi disegni hanno improvvisamente preso vita: i camion iniziano a muoversi, i razzi decollano, le foglie cadono lentamente. Guarda fuori, un mostro mangia-fiori si sta aggirando nei paraggi... Welcome to Misty!
Ogni giocatore deve impostare una finestra da 12 tessere. Per costruire la finestra, ogni giocatore deve scegliere una carta dalla propria mano e, fatto questo, passa le carte rimanenti al proprio vicino. I giocatori dovrenno quindi scegliere se fare la scelta più utile alla propria creazione o impedire al vicino di pescare una carta propizia!
Una volta che tutte le carte sono saranno state giocate, alcune si muoveranno per coprirne altre, facendole così uscire dal gioco. Per vincere il giocatore dovrà accumulare più punti possibile con la propria finestra.
Customer Reviews
This product does not have any reviews yet.