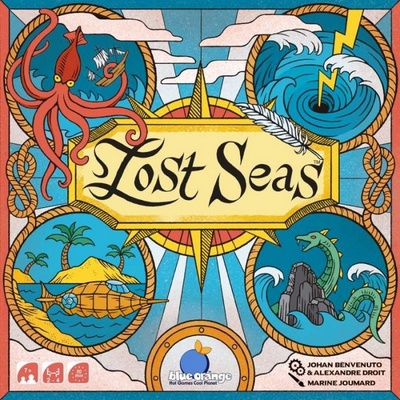 Product Information
| | |
| --- | --- |
| UPC | GHELSTS |
| Product Type | Gioco da Tavolo |
| Ean | 3664824001260 |
| Min Players | 2 |
| Max Players | 4 |
| Language | Italiano |
| Age | 7+ |
| Duration | 30 |
| Autor | Johan Benvenuto |
| Brand | Blue Orange |
| Number of reviews | 0 |
Product Description
Lost Seas è un Gioco da Tavolo in Italiano di  Johan Benvenuto edito da Blue Orange.
Lost Seas è un gioco per 2-4 giocatori della durata di circa 30 minuti raccomandato da 7 anni in su.
Ci sono una miriade di storie terribili sulle misteriose profondità inesplorate dei mari perduti. Le voci su kraken giganti, vortici infernali, enormi serpenti marini e isole deserte ostili abbondano, e rimangono solo relitti scheletrici a testimonianza di spedizioni passate incerte. È tempo di armarsi con gli ultimi strumenti di navigazione e prepararsi a salpare per la tua spedizione più audace, sapendo che se ci riuscirai, la gloria andrà oltre i tuoi sogni più sfrenati e la tua mappa diventerà materia di leggende. Forgia la tua leggenda tracciando le tue imprese nei terrificanti e ostili Lost Seas. Solo il viaggio più pericoloso e ardito passerà alla storia. Pianifica la tua spedizione. Esplora le pericolose profondità dei mari perduti. Pianifica il tuo pericoloso viaggio.
Descrizione BGG:
There is a host of terrible tales surrounding the mysterious uncharted depths of the Lost Seas. Rumours of giant krakens, infernal maelstroms, huge sea serpents and hostile deserted islands abound, and only skeletal shipwrecks remain as testament to tentative past expeditions. It is time to arm yourselves with the latest instruments of navigation and prepare to set sail on your most daring expedition yet, knowing that if you succeed, the glory will be beyond your wildest dreams and your map will become the stuff of legends.
Forge your own legend by charting your exploits in the terrifying and hostile Lost Seas. Only the most perilous and daring journey will go down in history.
Plan your Expedition
Explore the dangerous depths of the Lost Seas
Map your perilous journey
Customer Reviews
This product does not have any reviews yet.