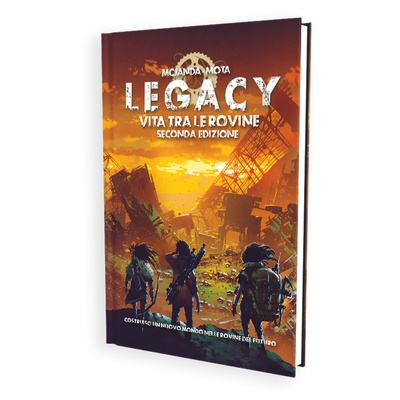 Legacy: Vita tra le Rovine
€44.89
---
Product Information
| | |
| --- | --- |
| UPC | MSE105851 |
| Product Type | Gioco di Ruolo |
| | Italiano |
| | MS Edizioni |
| Number of reviews | 0 |
Product Description
COSA SUCCEDE DOPO L'APOCALISSE?
I vostri antenati sono sopravvissuti grazie a fortuna, preparazione o pura e semplice determinazione, ma ora è giunto per loro il momento di lasciare i rifugi e iniziare a ricostruire il mondo dalle fondamenta. Famiglie con filosofie e attitudini differenti, misteriose fazioni ognuna con i propri obiettivi e i bizzarri mostri che infestano lande desolate, sono solo alcuni degli ostacoli che incontrerete. Mentre le generazioni si susseguono e le vostre Famiglie si evolvono per adattarsi a questo nuovo mondo, quali incredibili storie racconterete?
In Legacy potete creare il vostro personale scenario post-apocalittico, popolato di fazioni e sopravvissuti, assumete il controllo di una Famiglia, interpretate i coraggiosi eroi che la compongono e fatevi strada attraverso le ere!
Legacy: Vita fra le Rovine vi offrirà:
·         Grandi strategie e lotte disperate. Comandate i movimenti di spie ed eserciti al livello controllando un'intera Famiglia, o affrontate terribili mostri e esplorate le rovine del Mondo di Prima come dei Personaggi singoli, con regole immediate e narrative basate su un regolamento Powered by the Apocalypse.
·         Un percorso attraverso la storia. Scrivete la saga delle vostre Famiglie nel corso delle generazioni e sfruttate i poteri dei vostri antenati, mentre affrontate le conseguenze inaspettate delle loro azioni.
·         Un'ampia varietà di playbook. Con 11 differenti Famiglie e 13 Personaggi unici, avrete la possibilità di esplorare centinaia di combinazioni, ognuna con un significato preciso per la storia che state raccontando.
·         Orde della Notte Eterna. Iniziate subito a giocare con questo scenario completo, contenente 5 coppie Famiglia/Personaggio e fantastici spunti per raccontare le vostre storie in un mondo senza sole, dove gli spettri attendono affamati al limitare dell'oscurità.
Customer Reviews
This product does not have any reviews yet.