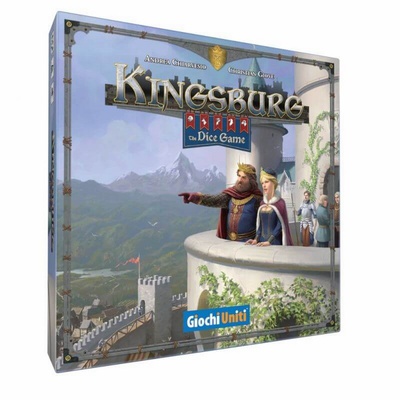 KINGSBURG: THE DICE GAME Gioco da Tavolo
€19.89
---
Product Information
| | |
| --- | --- |
| UPC | GU12217 |
| Product Type | Gioco da Tavolo |
| Min Players | 2 |
| Max Players | 5 |
| Age | 10+ |
| Ean | 8058773205469 |
| Duration | 30 |
| Language | Italiano |
| Autor | Andrea Chiarvesio |
| Brand | Giochi Uniti |
| Number of reviews | 0 |
Product Description
Kingsburg: The Dice Game è un divertente gioco di dadi ambientato nell'universo medievale di Kingsburg. Nella veste di un gruppo di promettenti governatori verrete inviati da Re Tritus in persona nelle province di confine da poco annesse al suo regno. In queste nuove terre dovrete darvi da fare per colonizzare e civilizzare un territorio vergine con palazzi e roccaforti per difendere i confini dalle temute invasioni barbariche.
Gestite al meglio i vostri dadi, utilizzate i preziosi consiglieri reali e fate in modo di costruire in modo rapido ed efficiente le difese del regno, l'invasione è ormai alle porte ed il vostro compito è quello di contrastarla!
Kingsburg: The Dice Game è un gioco da tavolo gestionale edito da Giochi Uniti.
Customer Reviews
This product does not have any reviews yet.
Recommended items