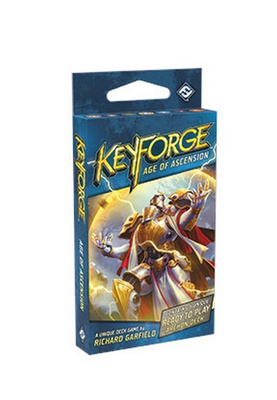 KeyForge - L'Era dell'Ascensione: Mazzo Arconte
€9.89
€2.48 (-75%)
---
Product Information
| | |
| --- | --- |
| UPC | AST12483 |
| Product Type | Gioco da Tavolo |
| Ean | 3558380062653 |
| Min Players | 2 |
| Max Players | 2 |
| Language | Italiano |
| Age | 14+ |
| Duration | 45 |
| Autor | Richard Garfield |
| Brand | Asterion - Asmodee |
| Number of reviews | 0 |
Product Description
Questo Mazzo Arconte per il gioco di carte di KeyForge - L'Era dell'Ascensione è un mazzo di 37 carte pronto per essere utilizzato. All'interno troverete un mazzo composto da 3 delle 7 fazioni disponibili, ma non contiene segnalini ed altro materiale di gioco contenuto nel set base del gioco. Il pool di carte contiene 204 nuove carte e 166 dell'espansione precedente, per un pool collettivo di 370 carte da cui attingere per la creazione dei mazzi unici.
KeyForge è il nuovo fantastico gioco di Richard Garfield, il papà del celebre Magic: The Gathering! Questo originalissimo gioco di carte prevede un formato di costruzione del mazzo mai esplorato finora, ovvero, nessuno! I mazzi acquistati contengono infatti un set di carte casuale che non può essere in alcun modo modificato, permettendo ai giocatori di mettere alla prova la propria capacità di portare all'estremo una serie di combo uniche e legate a quel particolare mazzo. Ogni mazzo acquistato è pronto all'uso, non richiede alcun tipo di modifica se non la vostra capacità di utilizzare al meglio la combinazione di carte che lo compone.
KeyForge - L'Era dell'Ascensione: Mazzo Arconte è un gioco di carte edito da Asmodee Italia.
Customer Reviews
This product does not have any reviews yet.
Recommended items