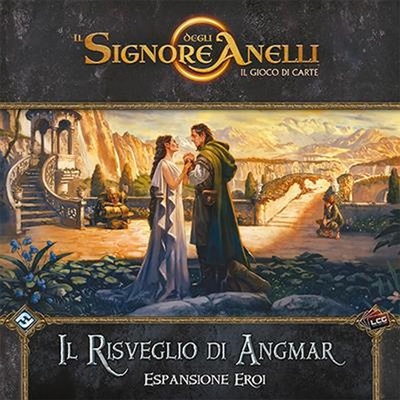 Il Signore degli Anelli LCG Nuova Edizione - Il Risveglio di Angmar: Esp. Eroi
€44.89
---
Product Information
| | |
| --- | --- |
| UPC | ASM10716 |
| Product Type | Gioco da Tavolo |
| Min Players | 1 |
| Max Players | 4 |
| Age | 13+ |
| Duration | 45 |
| Autor | Nate French |
| Language | Italiano |
| Ean | 841333116606 |
| Brand | Asterion - Asmodee |
| Number of reviews | 0 |
Product Description
Il Signore degli Anelli LCG Nuova Edizione - Il Risveglio di Angmar: Esp. Eroi è un'espansione per il Gioco da Tavolo Il Signore degli Anelli LCG completamente in Italiano.
"Ma quando cose oscure vengono dai colli senza case, o strisciano fuori dai boschi senza sole, esse fuggono da noi."
Aragorn, La Compagnia dell'Anello.

I misteriosi Dúnedain proteggono instancabilmente i Popoli Liberi dalle ombre incombenti e le insidie striscianti. Mentre assolvono il loro compito di guardiani del reame, questi raminghi del nord si ergono indefessi davanti a ogni minaccia.
Questa espansione include 8 eroi e molte carte giocatore per aumentare le opzioni di personalizzazione di qualsiasi mazzo.
Schierate personaggi leggendari come Aragorn e Arwen per affrontare epiche imprese nella Terra di Mezzo e ostacolare i piani di pericolosi nemici. Attendete il momento giusto per sfruttare le carte valorose e imbarcatevi in nuove avventure ed emozionanti imprese secondarie.
L'espansione eroi Il Risveglio di Angmar può essere usata per comporre o potenziare i mazzi dei giocatori di qualsiasi scenario o campagna de Il Signore degli Anelli: Il Gioco di Carte.
Descrizione BGG:
The mysterious Dúnedain tirelessly protect the Free Peoples from lurking shadows and unseen dangers. In their duty to safeguard the realm, these Rangers of the North selflessly walk in harm's way…
The Angmar Awakened Hero Expansion includes 8 heroes for The Lord of the Rings: The Card Game, as well as all of the player cards and customization options featured in The Lost Realm and the original Angmar Awakened cycle. Use iconic characters like Aragorn and Arwen to quest through Middle-earth and thwart dangerous foes. Rise to the occasion by using valor cards and partake in new adventures pursuing thrilling side quests.
The Angmar Awakened Hero Expansion can be used to build or enhance player decks for any The Lord of the Rings: The Card Game scenario or campaign.
This expansion is for the revised edition of the base game but is fully compatible with the original core set.
Customer Reviews
This product does not have any reviews yet.
Recommended items