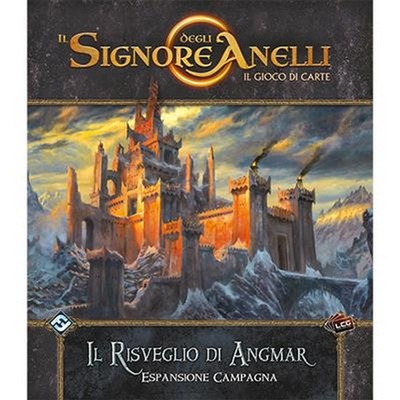 Il Signore degli Anelli LCG Nuova Edizione - Il Risveglio di Angmar: Esp. Campagna
€69.89
---
Product Information
| | |
| --- | --- |
| UPC | ASM10717 |
| Product Type | Gioco da Tavolo |
| Min Players | 1 |
| Max Players | 4 |
| Language | Italiano |
| Age | 13+ |
| Ean | 841333116811 |
| Duration | 45 |
| Autor | Nate French |
| Brand | Asterion - Asmodee |
| Number of reviews | 0 |
Product Description
Il Signore degli Anelli LCG Nuova Edizione - Il Risveglio di Angmar: Esp. Campagna è un'espansione per il Gioco da Tavolo Il Signore degli Anelli LCG completamente in Italiano.

"Disse loro che quei pugnali erano stati forgiati tanti anni addietro dagli uomini dell'Ovesturia, nemici dell'Oscuro Signore, ma sopraffatti dal malvagio re di Carn Dûm nella terra di Angmar." 
La Compagnia dell'Anello.

Le terre a ovest dell'Eriador hanno vissuto lunghi anni di pace sotto lo sguardo vigile dei raminghi del Nord. Eppure, nessuna tomba può contenere le forze di Angmar che si annidano in luoghi selvaggi e antichi, e che mettono a dura prova i valorosi Dúnedain nel loro compito di proteggere la regione.

Ne Il Risveglio di Angmar, da 1 a 4 giocatori uniranno le forze insieme ai Dúnedain per difendere l'Eriador e indagare sulla fonte del male che infesta quelle terre. Nel corso di nove scenari, giocabili anche in sequenza come un'unica campagna completa, dovranno affrontare orchi, troll, spettri e un astuto signore del male che padroneggia una stregoneria oscura.
Descrizione BGG:
The western lands of Eriador have long remained peaceful under the vigilance of the Rangers of the North. Yet no grave can contain the evil forces of Angmar, which lurk in wild and ancient places, stretching the valorous Dúnedain rangers far and thin in their duty to protect the land.
In the Angmar Awakened Campaign Expansion, one to four players join forces with the Dúnedain to defend Eriador and investigate the source of the evil that plagues the land. Across nine scenarios, playable over the course of a sequential campaign, they must confront Orcs, trolls, wraiths, and a cunning villain who wields dark sorcery.
This expansion includes all of the scenarios featured in The Lost Realm and the original Angmar Awakened cycle, now repackaged into one box, along with all-new campaign content.
This expansion is for the revised edition of the base game but is fully compatible with the original core set.
Customer Reviews
This product does not have any reviews yet.
Recommended items