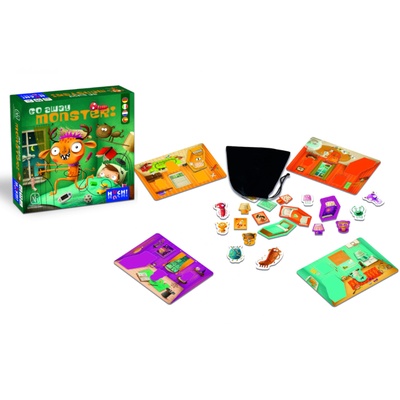 Product Information
| | |
| --- | --- |
| UPC | OLIGAM |
| Product Type | Gioco da Tavolo |
| Min Players | 2 |
| Max Players | 4 |
| Language | Italiano |
| Age | 3+ |
| Duration | 15 |
| Autor | Monty Stambler |
| Brand | Oliphante |
| Number of reviews | 0 |
Product Description
Go Away Monster è un Gioco da Tavolo in Italiano di Monty Stambler edito da Oliphante.
Go Away Monster è un gioco per 2-4 giocatori della durata di circa 15 minuti raccomandato da 3 anni in su.
Arreda la tua cameretta!
Tasta gli oggetti nel sacchetto ed estraine uno…
Se l'oggetto va bene per la tua stanza mettilo al posto giusto… Se è un mostro, gettalo via al più presto!
Descrizione BGG:
Reach in the bag to find the puzzle pieces that fit your bedroom game board. Try to distinguish between the different puzzle pieces and decide which one feels like the size and shape of a piece you need. If you pull out a monster, don't be scared... You take charge, and the monsters will take off!
Being afraid of monsters is a normal part of growing up. Go Away Monster! encourages kids to conquer that fear by acting it out and taking control. It also lets them experience some of the apprehension and excitement in deciding what is real and what is imaginary.
Customer Reviews
This product does not have any reviews yet.