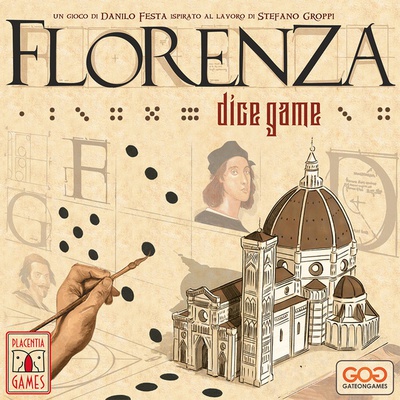 FLORENZA : DICE GAME Gioco da Tavolo
€22.89
---
Product Information
| | |
| --- | --- |
| UPC | GOG13469 |
| Product Type | Gioco da Tavolo |
| Ean | 8052080020296 |
| Min Players | 1 |
| Max Players | 4 |
| Language | Italiano |
| Age | 12+ |
| Duration | 60 |
| Autor | Danilo Festa |
| Brand | Gate On Games |
| Number of reviews | 0 |
Product Description
Bentornati a Florenza, la celebre città che ha dato i natali a due vere e proprie perle del panorama ludico italiano ed internazionale ideate da Stefano Groppi! Questo splendido universo rinascimanetale fa da cornice a Florenza - Dice Game, un originale gioco in stile roll and write, che vi permetterà di cogliere una profondità più unica che rara in questo genere di giochi.
Nella veste di un gruppo di nobili appartenenti all'aristocrazia fiorentina dovrete gestire al meglio le vostre risorse ed i fiorini che raccoglierete per costruire nuovi edifici ed ottenere così preziosi benefici. Ogni scelta sarà legata all'utilizzo di un certo numero di dadi, utilizzandone sia il risultato che il colore. La possibilità di un doppio utilizzo per ciascun risultato dei dadi vi consentirà di dare valore sia ai risultati bassi che a quelli alti, limitando enormemente l'influenza del caso nello sviluppo della vostra strategia di gioco.
Ogni scelta dovrà dunque essere valutata e ragionata in funzione delle scelte degli altri giocatori e della probabilità di ottenere un particolare bonus. Fate inoltre attenzione alla limitatezza, sia dello spazio nel vostro quartiere per la costruzione di nuovi edifici, che nel tempo, visto che ogni partita ha un numero fisso di round in base al numero di giocatore.
Florenza - Dice Game riesce ad amalgamare in modo ineccepibile l'immediatezza delle regole di un gioco roll and write, con la profondità strategica di un classico gioco gestionale, in un mix di meccaniche assolutamente all'altezza di una location come quella di Florenza.
Customer Reviews
This product does not have any reviews yet.