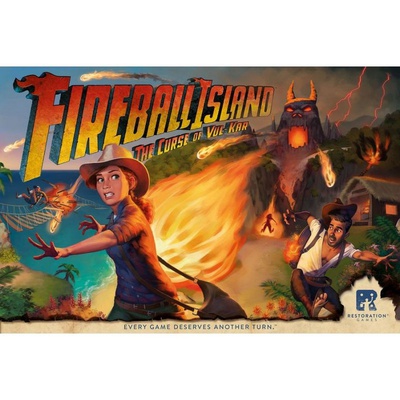 Fireball Island The Curse Of Vul-Kar (Versione Retail)
€79.89
€59.92 (-25%)
---
Product Information
| | |
| --- | --- |
| UPC | REST11824 |
| Product Type | Gioco da Tavolo |
| Min Players | 2 |
| Max Players | 4 |
| Language | Multilingua |
| Age | 7+ |
| Duration | 45 |
| Autor | Rob Daviau |
| Ean | 867825000338 |
| Brand | Restoration Games |
| Number of reviews | 0 |
Product Description
Manuale in Italiano incluso!
Bentornati sull'Isola di Fuoco più celebre di sempre, un luogo dove l'infanzia di molti appassionati del gioco da tavolo è stata incendiata tra palline di plastica rotolanti e pericolosi sentieri irti di tranelli a scatto: la culla per l'immaginazione di un'intera generazione. Quello stesso piccolo grande capolavoro torna oggi in vita grazie all'ennesimo splendido lavoro di restauro della Restoration Games!
La divinità dell'isola, Vul-Kar, deve difendersi nuovamente dall'arrivo degli esploratori che tenteranno in ogni modo di rubargli le preziose gemme incastonate nel vulcano al centro dell'isola. La furia di Vul-Kar sarà implacabile, così come non sarà affatto semplice scampare dai mille pericoli che si nascondono sotto ogni radice e dietro ogni foglia che si trovano sui sentieri per arrivare al tesoro. Le meccaniche di gioco sono state modernizzate ed alleggerite, diminuendo il fattore caso ed aumentando il divertimento. Preparatevi... l'effetto nostalgia sarà devastante più delle palle infuocate di Vul-Kar!
Fireball Island: The Curse of Vul-Kar è un gioco da tavolo d'avventura edito da Restoration Games.
Customer Reviews
This product does not have any reviews yet.
Recommended items