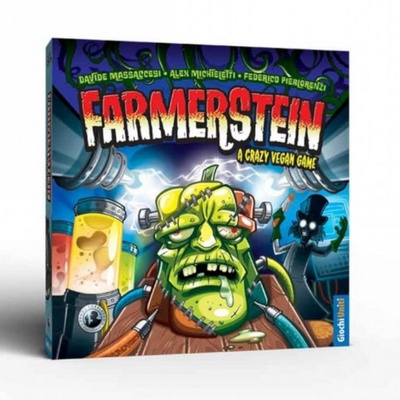 Product Information
| | |
| --- | --- |
| UPC | GU721 |
| Product Type | Gioco da Tavolo |
| Ean | 8058773208033 |
| Min Players | 3 |
| Max Players | 5 |
| Language | Italiano |
| Age | 8+ |
| Duration | 20 |
| Autor | Davide Massaccesi |
| Brand | Giochi Uniti |
| Number of reviews | 1 |
Product Description
Farmerstein è un Gioco da Tavolo in Italiano di Davide Massaccesi edito da Giochi Uniti.
Farmerstein è un gioco per 3-5 giocatori della durata di circa 20 minuti raccomandato da 8 anni in su.
Gettatevi nei panni di pazzi scienziati alla testa di un'armata di vegetali mutanti! Conquistate il mondo a capo di un'orda d'agguerriti pomodori, letali ravanelli e feroci cetrioli! Collezionate la vostra armata, ostacolate quell'avversaria e conquistate tutti i continenti. Fate però attenzione alle zucchine zombie! I vostri esperimenti le hanno scatenate e minacceranno tutti i vostri piani di conquista! Una pazza sfida vegetale piena di colpi bassi e interazione tra i giocatori
Descrizione BGG:
The life of a farmer is hard: hands covered with calluses, waking up at dawn, smelling manure constantly...in short, a nightmare. This is why some tired farmers have decided to make the most sensible choice: Follow the legacy of Doctor Farmerstein, and devote themselves to conquering the world! With a large number of potions and mutagenic agents, they are now capable of giving life to plants to build a fearsome and large army!
In the card game Farmerstein, you play the role of mad scientists who launch their GMOs to conquer the world, with your soldiers being asparagus, mushrooms, cucumbers, and tomatoes mutated into monstrous bloodthirsty creatures. Your goal is to conquer three continents — America, Europe, and Asia — and to do this you need to combine your vegetables and chemicals in the order required by the target cards. The game involves a lot of twisted interactions between players, but with one huge problem in common: the invasion of zombie zucchini, creatures so out of control that nobody can stop them!
Customer Reviews
Conquistare il mondo con un esercito di asparagi, pomodori e cavoli? Solo l'idea basterebbe :) e il gioco è pure divertente!

Reviewed by Francesco Carloni on Jan. 15, 2022, 4:14 p.m. | Permalink

This review has no votes.