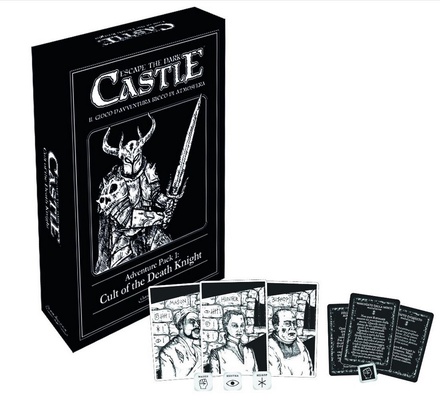 Escape the Dark Castle: Adventure Pack 1 - Cult of the Death Knight
€19.89
---
Product Information
| | |
| --- | --- |
| UPC | GHEESC1 |
| Product Type | Gioco da Tavolo |
| Min Players | 1 |
| Max Players | 4 |
| Language | Italiano |
| Age | 14+ |
| Duration | 30 |
| Autor | Alex Crispin |
| Brand | Ghenos Games |
| Number of reviews | 1 |
Product Description
Benvenuto prigioniero in una nuova era di Dark Castle. Il Cavaliere della Morte è divenuto più potente, il suo culto oscuro mette in nuovo pericolo il castello e le sue mortali maledizioni contagiano coloro che osano fuggire.
Cult of the Death Knight è una espansione per Escape the Dark Castle, che introduce nuove regole e nuovi contenuti per espandere e dare più profondità alle tue avventure. Oltre ad un nuovo boss, capitoli e carte maledizione, questa espansione introduce 3 nuovi personaggi giocanti: il Vescovo, il Cacciatore ed il Carpentiere. I nuovi prigionieri sono specializzati in un particolare campo: la forza del Carpentiere non conosce limiti, puoi fare affidamento sull'astuzia del Cacciatore ed il Vescovo è rinomato per la sua saggezza.
L'espansione include:
3 nuovi personaggi e relativi dadi personalizzati - ciascuno fortemente specializzato
15 nuove carte capitolo - per portarti in nuove aree del castello
1 nuova carta boss - il Death Knight stesso, Signore della Decomposizione
3 nuove carte oggetto - che introducono le maledizioni, terribili afflizioni per sventare i tuoi progressi
1 dado cultista personalizzato - prega di non doverlo mai lanciare
Customer Reviews
Ho giocato a questa spettacolare espansione e devo dire che rende il gioco principale più difficile ma allo stesso tempo da più suggestione all'atmosfera.. 5 stelle tutte meritate

Reviewed by Luca Quarati on April 4, 2020, 3:40 p.m. | Permalink

This review has no votes.
Recommended items