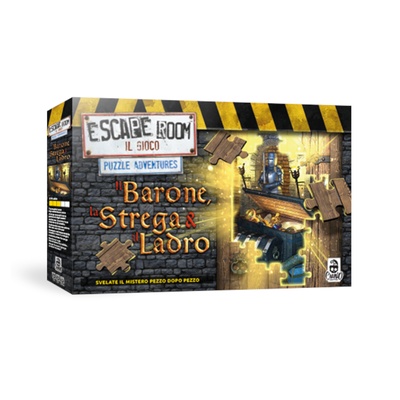 Escape Room Puzzle – Il Barone, la Strega e il Ladro
€18.89
---
Product Information
| | |
| --- | --- |
| UPC | CC365 |
| Product Type | Gioco da Tavolo |
| Ean | 8034055583654 |
| Min Players | 1 |
| Max Players | 2 |
| Language | Italiano |
| Age | 12+ |
| Duration | 120 |
| Brand | Cranio Creations |
| Number of reviews | 0 |
Product Description
Escape Room Puzzle – Il Barone, la Strega e il Ladro è un Gioco da Tavolo in Italiano di Cranio Creations per 1-2 giocatori, durata media 120 min, età 12+
Vostra moglie è stata ingiustamente accusata di stregoneria ed è stata portata via dagli uomini del Barone. Ora è rinchiusa nella torre del castello, in attesa della sua esecuzione. Avete solo una notte per irrompere nell'impenetrabile fortificazione, trovare vostra moglie e salvarla prima che venga bruciata sul rogo. Una missione impossibile…ma per fortuna vi giunge un aiuto in atteso!
In questa fusione fra un'Escape Room e un puzzle esplorerete un castello medioevale e, pezzo dopo pezzo, scoprirete i segreti celati al suo interno.
Giocate con calma in Modalità Puzzle oppure impostate il cronometro e cercate di ottenere il punteggio migliore nella Modalità Escape Room.
1.Leggete la storia
2.Componete il puzzle che raffigura ciò che vedete
3.Risolvete gli enigmi
4.Usate il decodificatore di enigmi per trovare un simbolo
5.Aprite lo scomparto che mostra il simbolo ricavato
Ripetete queste fasi finchè non avete composto il puzzle dell'intero castello e sarete riusciti a fuggire con vostra moglie!
Descrizione BGG:
Your wife has been falsely accused of witchcraft and has been taken away by the Baron's men. Now she is locked up in the castle tower, waiting for her execution. You only have one night to break into the impenetrable fort, find your wife and save her from being burned at the stake. An impossible mission... but fortunately there is help from an unexpected source!
In this cross between an Escape Room and a jigsaw, you explore a medieval castle, and piece by piece, you discover the secrets held within. Play the game at your leisure in Puzzle Mode, or set the timer and go for the best score in Escape Room Mode. Play this game with two or enjoy Escape Room The Game: Puzzle Adventures by yourself!
Customer Reviews
This product does not have any reviews yet.
Recommended items