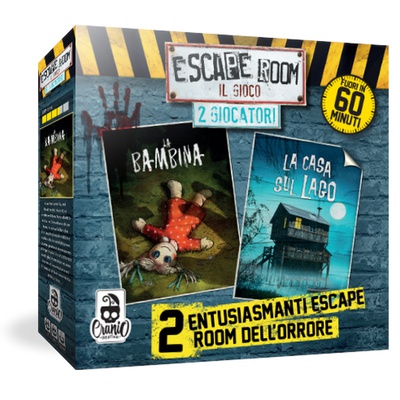 Escape Room - 2 Giocatori Horror
€15.89
---
Product Information
| | |
| --- | --- |
| UPC | CC273 |
| Product Type | Gioco da Tavolo |
| Ean | 8034055582732 |
| Min Players | 2 |
| Max Players | 2 |
| Language | Italiano |
| Age | 18+ |
| Duration | 60 |
| Brand | Cranio Creations |
| Number of reviews | 0 |
Product Description
Provate l'emozione di una reale Escape Room immersi nella comodità della vostra abitazione! In questa stimolante ed entusiasmante edizione horror per 2 giocatori dell'universalmente acclamato Escape Room – Il Gioco, dovrete lavorare in squadra per risolvere i rompicapi e scoprire gli indizi nascosti. Riuscirete a mantenere il sangue freddo?
E' una corsa contro il tempo: avrete solo 60 minuti per fuggire. In questo gioco o vincerete o perderete tutti insieme.
Il lavoro di squadra è la chiave del successo. Se non avete mai giocato ad una Escape Room, preparatevi per un'esperienza completamente nuova!
Questa scatola contiene due diverse avventure dell'orrore:
LA BAMBINA – Quattro anni fa, sei finalmente riuscito a mettere il Becchino dietro le sbarre. Si trattava di un temuto serial killer che lasciava le proprie vittime nei boschi in terribili pose.
Ora tuo padre è scomparso all'improvviso in circostanze analoghe. Potrebbe essere l'opera di un emulatore? E' tempo di fare una visita al Becchino… (DIFFICOLTA' 3,5 / 5)
LA CASA SUL LAGO – La vostra macchina vi ha abbandonato in mezzo al nulla. Un amichevole benzinaio locale si offre di ripararvela. Vi indica inoltre la direzione della casa della sua famiglia, dove potete passare la notte!
Poco a poco, scoprirete l'oscuro segreto della famiglia Fisher… (DIFFICOLTA' 4 / 5)
Questo gioco RICHIEDE l'utilizzo di un cellulare con l'app gratuita Escape Room the Game, che include il Chrono Decoder Digitale, OPPURE il Chrono Decoder del gioco base – oltre ovviamente una buona dose di coraggio!
Customer Reviews
This product does not have any reviews yet.
Recommended items