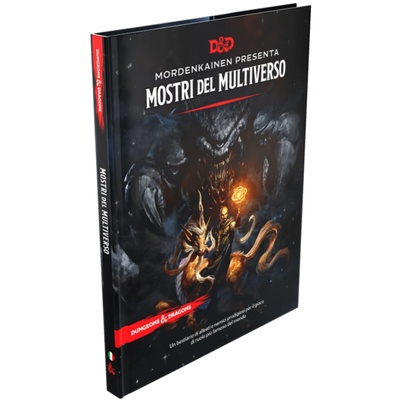 Dungeons & Dragons D&D: Mostri del Multiverso
€39.89
---
Product Information
| | |
| --- | --- |
| UPC | WOCDD5MMU |
| Product Type | Gioco di Ruolo |
| | Italiano |
| | Wizards of the Coast |
| Number of reviews | 0 |
Product Description
Un bestiario ricolmo di incredibili creature amiche e nemiche per il gioco di ruolo di maggior successo al mondo.
Tappezzato dalle riflessioni del mago Mordenkainen, questo tomo racchiude preziose informazioni su un'infinità di creature del gioco di ruolo di Dungeons & Dragons. Provenienti da ogni angolo del multiverso, queste creature rappresentano alcune delle forze più benevole e malevole in cui possono imbattersi gli eroi di D&D.
Questo libro racchiude inoltre voci relative a popoli fantastici provenienti da una miriade di mondi diversi. Ciascuno di questi popoli può essere scelto come razza durante la creazione di un personaggio, ampliando così la rosa offerta dal Manuale del Giocatore.
Elenca e aggiorna i mostri apparsi originariamente in Guida di Volo ai Mostri e Mordenkainen's Tome of Foes, questo libro presenta amici e nemici per ogni campagna di D&D, molti dei quali sono accompagnati dai commenti di Mordenkainen stesso. Il mago ha affrontato molte di queste creature nelle sue mirabolanti avventure. Ora è il tuo turno di avventurarti e affrontarle di persona!
Include oltre 250 mostri. Tra gli aggiornamenti spiccano una maggiore facilità di gestione degli incantatori per i Dungeon Master, mostri capaci di infliggere più danni e dotati di una maggiore resistenza e un'organizzazione delle statistiche migliorata.
Include oltre 30 razze giocabili. Racchiude in un solo libro tutte le razze non legate a un'ambientazione da aggiungere a quelle del Manuale del Giocatore.
Un multiverso di storie. Rifocalizza la storia dei mostri sul multiverso di D&D anziché su un mondo specifico.
Customer Reviews
This product does not have any reviews yet.