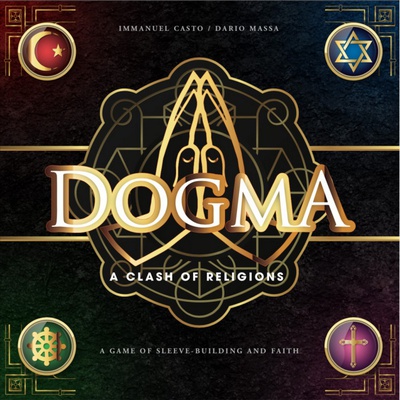 Dogma: a Clash of Religions
€34.89
---
Product Information
| | |
| --- | --- |
| UPC | FCDOGMA |
| Product Type | Gioco da Tavolo |
| Brand | Studio Supernova |
| Ean | 8052870930040 |
| Min Players | 2 |
| Max Players | 4 |
| Language | Italiano |
| Age | 16+ |
| Duration | 30 |
| Autor | Immanuel Casto |
| Number of reviews | 0 |
Product Description
Dogma - A Clash of Religions è un divertente gioco di carte in cui avrete l'occasione di costruire il vostro credo religioso utilizzando una miriade di concetti e luoghi comuni legati ad una serie di religioni realmente esistenti. La meccanica di gioco gira attorno all'originale sistema di Pack Building in cui dovrete comporre all'interno di una busta la vostra squadra di concetti e assiomi da far scontrare contro quelli dell'avversario.
In un mix di combinazioni irriverenti ed assolutamente divertenti avrete l'occasione di combattere a colpi di ideologie religiose, scherzando su una serie di tematiche generalmente serie e profonde. Chi riuscirà ad imporre la propria dottrina in questo mondo caotico dominato dal dogmatismo?
Customer Reviews
This product does not have any reviews yet.