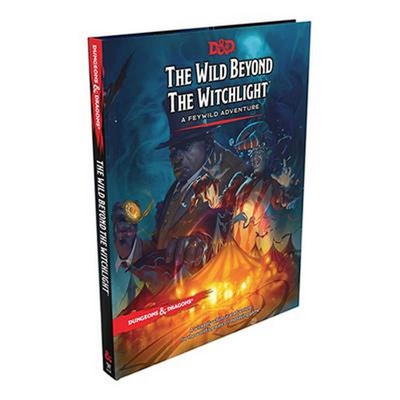 D&D Wild Beyond the Witchlight
€49.89
---
Product Information
| | |
| --- | --- |
| UPC | ASM4064 |
| Product Type | Gioco di Ruolo |
| | Inglese |
| | Asterion - Asmodee |
| Number of reviews | 0 |
Product Description
Questa nuova avventura di Dungeons & Dragons trasporterà i giocatori all'interno di una fiera itinerante delle meraviglie. Si tratta della prima avventura di Dungeons & Dragons Quinta Edizione ambientata nel Feywild, il Piano delle Fate, un mondo abitato da esseri fatati e permeato da un'atmosfera fiabesca.

Al centro della vicenda ci sarà il Witchlight Carnival, una fiera incantata itinerante, che sotto la guida dei suoi due impresari, il Signor Witch e il Signor Light, viaggia continuamente per tutto il multiverso portando gioia, stupore e divertimento in ogni luogo in cui si ferma.

The Wild Beyond the Witchlight sarà un'avventura che porterà i personaggi dal livello 1 al livello 8 e, sfruttando la natura extraplanare della fiera, sarà possibile inserire questa avventura in qualsiasi ambientazione. Tra le novità introdotte dall'avventura, ci saranno due nuove razze giocabili, fate e harengon (conigli antropomorfi) e due nuovi background speciali, i Feylost, cioè personaggi che sono cresciuti nel Feywild e i Witchlight Hand, cioè i personaggi che lavorano al Witchlight Carnival.

Un'ultima nota che farà felici i giocatori di D&D di vecchia data: The Wild Beyond the Witchlight segnerà anche il ritorno di Warduke, Strongheart, Kelek e altri personaggi legati alle prime edizioni di D&D.

Particolarità del modulo
The Wild Beyond the Witchlight sarà un modulo che si preannuncia come qualcosa di unico nella storia delle avventure di Dungeons & Dragons, sia per quel che riguarda l'atmosfera fiabesca generale, sia per l'inserimento di nuove meccaniche di gioco.
Una novità assoluta introdotta con questo modulo riguarda la presenza di una non-combat option, ovvero la possibilità di evitare completamente i combattimenti. Si tratta di un qualcosa che nella storia di Dungeons & Dragons non ha precedenti.
Customer Reviews
This product does not have any reviews yet.