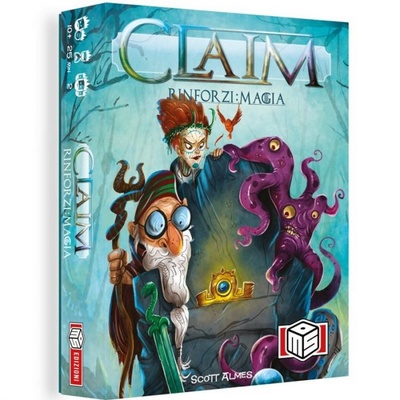 Claim: Rinforzi - Magia
€12.89
---
Product Information
| | |
| --- | --- |
| UPC | MSECLM-MAG |
| Product Type | Gioco da Tavolo |
| Ean | 8051772020040 |
| Min Players | 2 |
| Max Players | 2 |
| Language | Italiano |
| Age | 10+ |
| Duration | 25 |
| Autor | Scott Almes |
| Brand | MS Edizioni |
| Number of reviews | 0 |
Product Description
Claim: Rinforzi - Magia è un'espansione per il Gioco da Tavolo Claim completamente in Italiano.
Sempre più fazioni stanno combattendo per il trono. Maghi, Druidi e persino Mutaforma vengono coinvolti nella lotta per il potere. Le fazioni possono anche usare potenti manufatti antichi d'ora in poi.
Claim: Rinforzi - Magia è un'espansione: avrai bisogno di Claim o Claim2 per poterla giocare. Tutti le versioni possono essere giocate insieme. Non c'è differenza tra il retro delle carte, lo sfondo di tutte le varianti è lo stesso. Non ci saranno ostacoli per mescolarli come preferisci.
Carte e Bustine Protettive:

    60 carte - misura 56,87
Descrizione BGG:
More and more factions are fighting over the throne. Wizards, Druids and even Shapeshifters get involved in the struggle for power. The factions can also use powerful ancient artifacts from now on.
Customer Reviews
This product does not have any reviews yet.
Recommended items