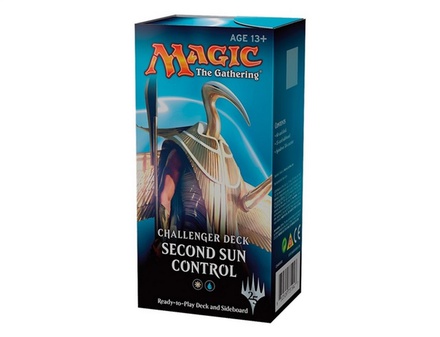 Challenger Deck Magic SECOND SUN CONTROL Mazzo
€24.89
€19.92 (-20%)
---
Product Information
| | |
| --- | --- |
| UPC | WOCCD03 |
| Product Type | Mazzo |
| | Wizards of the Coast |
| Number of reviews | 0 |
Product Description
I Challenger Decks sono perfetti per i giocatori desiderosi di avventurarsi subito nel formato Standard senza perdere tempo con la costruzione del mazzo.
Ogni Challenger Deck include un mazzo principale completo da 60 carte, un sideboard da 15 carte ed è pronto all'uso, offrendo ottimi risultati a livello locale. Tutte le carte al suo interno sono già state stampate in Standard e sono legali in questo formato.
Questi mazzi sono ottimi per i giocatori alle prime armi che vogliono provare il formato Standard, ma possono risultare allettanti anche per i veterani grazie alle potenti carte incluse in ogni mazzo.
I Challenger Decks saranno disponibili in tutto il mondo in inglese.
Second Sun Control
Creature (1)
1 Kefnet the Mindful
Sorcery (6)
3 Approach of the Second Sun
3 Fumigate
Instant (19)
1 Settle the Wreckage
4 Opt
4 Censor
4 Supreme Will
1 Renewed Faith
4 Glimmer of Genius
1 Farm // Market
Enchantment (8)
4 Aether Meltdown
4 Cast Out
Land (26)
4 Irrigated Farmland
2 Field of Ruin
2 Ipnu Rivulet
10 Island
8 Plains
Sideboard (15)
1 Kefnet the Mindful
2 Renewed Faith
4 Regal Caracal
2 Glyph Keeper
2 Spell Pierce
4 Negate
Customer Reviews
This product does not have any reviews yet.