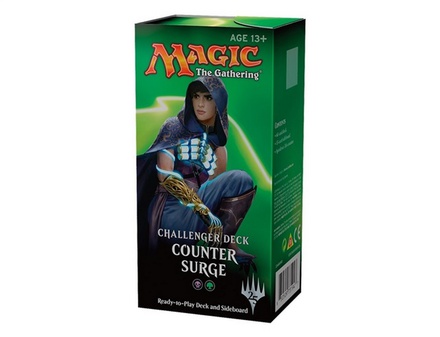 Challenger Deck Magic COUNTER SURGE Mazzo
€28.89
€23.12 (-20%)
---
Product Information
| | |
| --- | --- |
| UPC | WOCCD02 |
| Product Type | Mazzo |
| | Wizards of the Coast |
| Number of reviews | 0 |
Product Description
I Challenger Decks sono perfetti per i giocatori desiderosi di avventurarsi subito nel formato Standard senza perdere tempo con la costruzione del mazzo.
Ogni Challenger Deck include un mazzo principale completo da 60 carte, un sideboard da 15 carte ed è pronto all'uso, offrendo ottimi risultati a livello locale. Tutte le carte al suo interno sono già state stampate in Standard e sono legali in questo formato.
Questi mazzi sono ottimi per i giocatori alle prime armi che vogliono provare il formato Standard, ma possono risultare allettanti anche per i veterani grazie alle potenti carte incluse in ogni mazzo.
I Challenger Decks saranno disponibili in tutto il mondo in inglese.
Counter Surge
Creature (26)
4 Winding Constrictor
4 Glint-Sleeve Siphoner
2 Scrapheap Scrounger
1 Walking Ballista
3 Rishkar, Peema Renegade
3 Dreamstealer
2 Gonti, Lord of Luxury
3 Verdurous Gearhulk
4 Longtusk Cub
Sorcery (2)
2 Walk the Plank
Instant (7)
2 Hour of Glory
4 Blossoming Defense
1 Fatal Push
Land (25)
4 Aether Hub
4 Foul Orchard
2 Hashep Oasis
8 Swamp
7 Forest
Sideboard (15)
2 Lifecrafter's Bestiary
1 Dispossess
2 Die Young
3 Cartouche of Ambition
4 Duress
2 Appetite for the Unnatural
1 Slice in Twain
Customer Reviews
This product does not have any reviews yet.