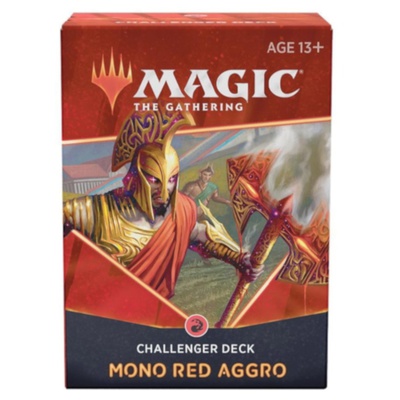 Challenger Deck 2021 Magic MONO RED AGGRO Mazzo
€29.89
---
Product Information
| | |
| --- | --- |
| UPC | WOCCD21C |
| Product Type | Mazzo |
| | Inglese |
| | Wizards of the Coast |
| Number of reviews | 0 |
Product Description
I Challenger Decks sono perfetti per i giocatori desiderosi di avventurarsi subito nel formato Standard senza perdere tempo con la costruzione del mazzo.
Ogni Challenger Deck include un mazzo principale completo da 60 carte, un sideboard da 15 carte ed è pronto all'uso, offrendo ottimi risultati a livello locale. Tutte le carte al suo interno sono già state stampate in Standard e sono legali in questo formato.
Questi mazzi sono ottimi per i giocatori alle prime armi che vogliono provare il formato Standard, ma possono risultare allettanti anche per i veterani grazie alle potenti carte incluse in ogni mazzo.
I Challenger Decks saranno disponibili in tutto il mondo in inglese.


Mono Red Aggro

Creature (27)
4 Fervent Champion
4 Kargan Intimidator
4 Bonecrusher Giant
3 Torbran, Thane of Red Fell
4 Akoum Hellhound
4 Rimrock Knight
4 Anax, Hardened in the Forge

Sorcery (6)
2 Shatterskull Smashing
4 Roil Eruption

Instant (8)
4 Spikefield Hazard
4 Shock

Artifact (1)
1 Embercleave

Land (18)
2 Castle Embereth
16 Mountain

Sideboard (15)
2 Relic Robber
2 Roiling Vortex
2 Soul-Guide Lantern
4 Redcap Melee
3 Thundering Rebuke
2 Soul Sear

Customer Reviews
This product does not have any reviews yet.
Recommended items