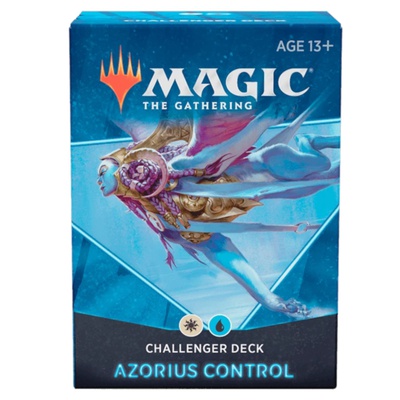 Challenger Deck 2021 Magic AZORIUS CONTROL Mazzo
€34.89
---
Product Information
| | |
| --- | --- |
| UPC | WOCCD21A |
| Product Type | Mazzo |
| | Inglese |
| | Wizards of the Coast |
| Number of reviews | 0 |
Product Description
I Challenger Decks sono perfetti per i giocatori desiderosi di avventurarsi subito nel formato Standard senza perdere tempo con la costruzione del mazzo.
Ogni Challenger Deck include un mazzo principale completo da 60 carte, un sideboard da 15 carte ed è pronto all'uso, offrendo ottimi risultati a livello locale. Tutte le carte al suo interno sono già state stampate in Standard e sono legali in questo formato.
Questi mazzi sono ottimi per i giocatori alle prime armi che vogliono provare il formato Standard, ma possono risultare allettanti anche per i veterani grazie alle potenti carte incluse in ogni mazzo.
I Challenger Decks saranno disponibili in tutto il mondo in inglese.
Azorius Control
Creature (6)
2 Skyclave Cleric
2 Dream Trawler
2 Archon of Sun's Grace

Sorcery (4)
1 Emeria's Call
2 Shatter the Sky
1 Doomskar

Instant (10)
3 Neutralize
1 Saw It Coming
1 Negate
3 Thirst for Meaning
2 Behold the Multiverse

Artifact (2)
2 Glass Casket

Enchantment (14)
1 Shark Typhoon
3 Elspeth Conquers Death
4 The Birth of Meletis
4 Omen of the Sea
2 Banishing Light

Land (24)
4 Temple of Enlightenment
8 Plains
8 Island
4 Tranquil Cove

Sideboard (15)
1 Archon of Sun's Grace
2 Banishing Light
2 Glass Casket
2 Skyclave Apparition
3 Confounding Conundrum
3 Mystical Dispute
2 Essence Scatter
Customer Reviews
This product does not have any reviews yet.
Recommended items