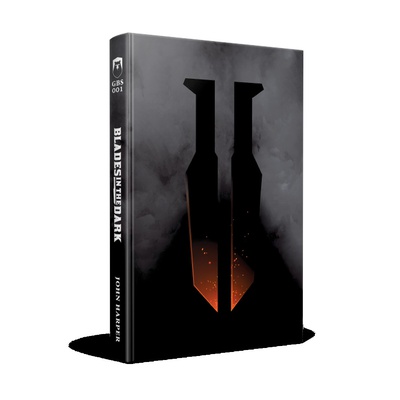 BLADES IN THE DARK Gioco di Ruolo
€34.89
---
Product Information
| | |
| --- | --- |
| UPC | AST0605 |
| Product Type | Gioco di Ruolo |
| | 9788894514506 |
| | Italiano |
| | Asterion - Asmodee |
| Number of reviews | 0 |
Product Description
Blades in the Dark è un gioco di ruolo in cui si raccontano le imprese di una banda di audaci canaglie che cerca fortuna nelle strade infestate di fantasmi nella città fantasy-industriale di Doskvol, in un mondo condannato al buio eterno.
Tu e la tua banda dovrete sopravvivere e crescere in mezzo alle minacce di gang rivali, nobili corrotti e alla Guardia Cittadina. Ci saranno colpi criminali, misteri occulti, patti pericolosi, schermaglie sanguinolente, ma soprattutto ricchi bottini per i più coraggiosi. Riuscirete a salire tra i ranghi del mondo criminale? Cosa siete disposti a fare per arrivare in cima?

Il manuale contiene le regole per creare i personaggi in base agli archetipi di vari criminali (spie, ladri, subdoli manipolatori, sabotatori…) e la vostra banda (assassini, cultisti, trafficanti...).
Le meccaniche di gioco vi porteranno a sessioni dal ritmo serrato, senza pesanti preparazioni, ma focalizzate sull'azione del colpo.
Non conta solo l'abilità, ma anche la capacità di mettersi nella posizione migliore per avere successo.
Troverete anche una mappa di Doskvol e una descrizione dei quartieri, dei PNG importanti e delle fazioni, come spunto per partire con situazioni esplosive da completare con le vostre storie, per creare la vostra Doskvol.


Copertina Cartonata
338 pagine
16x23cm
2 segnalibri in raso rosso
Customer Reviews
This product does not have any reviews yet.