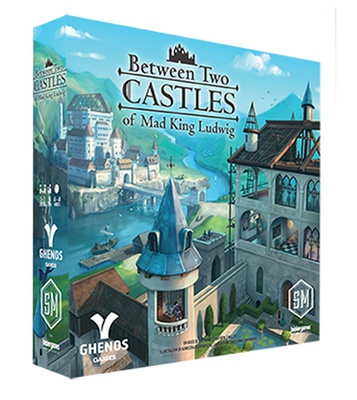 Between Two Cities
€39.89
---
Product Information
| | |
| --- | --- |
| UPC | GHE098 |
| Product Type | Gioco da Tavolo |
| Ean | 8033609530984 |
| Min Players | 2 |
| Max Players | 7 |
| Language | Italiano |
| Age | 10+ |
| Duration | 60 |
| Brand | Asterion - Asmodee |
| Number of reviews | 0 |
Product Description
In Between Two Castles of Mad King Ludwig avrete a che fare con il folle re Ludwig e con le sue assurde richieste per la realizzazione del suo castello. Tuttavia, stavolta la richiesta è ancora più particolare, vi ha infatti richiesto di realizzare 2 diversi castelli. Per riuscirci non avete che una possibilità, collaborare con altri abili costruttori in modo da rispettare le richieste del re.
Between Two Castles of Mad King Ludwig unisce le meccaniche di due giochi di grandi successo: Between Two Cities e Castles of Mad King Ludwig. Come nel primo dei titoli dovrete collaborare con i vostri vicini per realizzare 2 diverse castelli, durante il vostro turno dovrete scegliere infatti 2 diverse tessere da piazzare una alla vostra destra e l'altra alla vostra sinistra, collaborando con i vostri vicini costruttori. Tessera dopo tessera realizzerete due diversi castelli formati da tessere con vari poteri, come avete imparato ad apprezzare nell'altro titolo di cui questo gioco è il degno erede. Obiettivo del gioco è realizzare uno, anzi due, castelli degni delle richieste di re Ludwig, buona costruzione!
Customer Reviews
This product does not have any reviews yet.