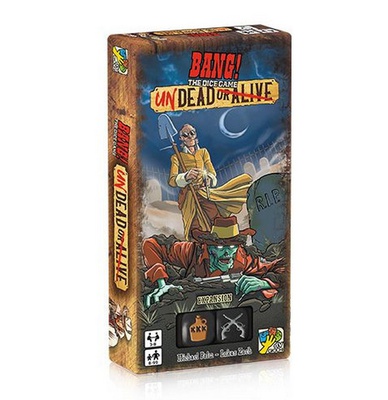 Bang - The Dice Game: Undead or Alive
€14.89
---
Product Information
| | |
| --- | --- |
| UPC | DV13352 |
| Product Type | Gioco da Tavolo |
| Ean | 8032611691157 |
| Min Players | 3 |
| Max Players | 8 |
| Language | Italiano |
| Age | 8+ |
| Duration | 15 |
| Autor | Emiliano Sciarra |
| Brand | Da Vinci |
| Number of reviews | 0 |
Product Description
Bang! - The Dice Game: Undead or Alive è la seconda espansione del gioco di dadi di Bang! - The Dice Game che include nuovi personaggi, carte ruolo speciali, segnalini e due dadi aggiuntivi.
Questa nuova e non morta espansione comprende inoltre 5 diversi "moduli" di gioco che possono essere aggiunti al gioco base singolarmente, oppure combinato con altri.
Bang! The Dice Game è il gioco di dadi che riprende in modo fedele le meccaniche che hanno reso un best seller l'omonimo party game con le carte di Bang!, tutte raccolte in una manciata di dadi. Si tratta della rivisitazione in una lotta tra cowboy e pellerossa tutta in chiave dadesca!
Customer Reviews
This product does not have any reviews yet.
Recommended items