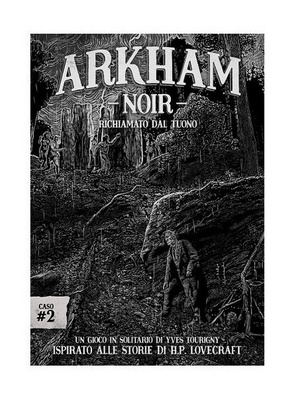 Arkham Noir: Caso 2 - Richiamato dal Tuono
€13.98
---
Product Information
| | |
| --- | --- |
| UPC | RAV12513 |
| Product Type | Gioco da Tavolo |
| Min Players | 1 |
| Max Players | 1 |
| Language | Italiano |
| Age | 14+ |
| Duration | 30 |
| Autor | Yves Tourigny |
| Brand | Raven |
| Number of reviews | 0 |
Product Description
Caso 2 - Richiamato dal Tuono della serie Arkham Noir ispirato ai racconti "The Lurking Fear" (1923) e "The Diary of Alonzo Typer" (1938).
In Arkham Noir vi troverete nei panni del celebre H.P. Lovecraft, immaginando però di trovarvi nel bel mezzo di uno dei suoi racconti rivisto come se fosse un romanzo in stile noir. Da buon investigatore privato, Lovecraft dovrà cercare di capire come si sono svolti i fatti del caso, cercando di collegare e risolvere i vari enigmi che il gioco gli farà incontrare. Ogni volta che mescolerete il mazzo avrete di fronte un nuovo caso da affrontare, in una sfida che mixa l'ambientazione lovecraftiana ai romanzi noir. Riuscirete a risolvere il caso prima di perdere la vostra salute mentale?
Arkham Noir: Caso 2 - Richiamato dal Tuono è un gioco da tavolo investigativo edito da Raven Distribution.
Customer Reviews
This product does not have any reviews yet.
Recommended items