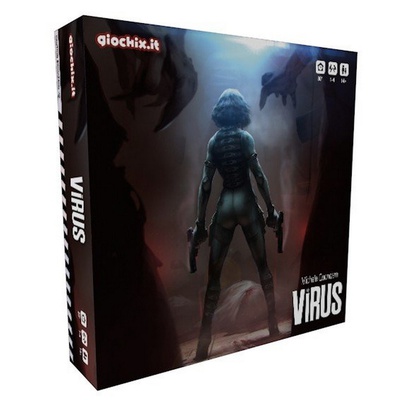 VIRUS Gioco da Tavolo
€79.89
Unavailable
---
Product Information
| | |
| --- | --- |
| UPC | GX038 |
| Product Type | Gioco da Tavolo |
| Availability | Unavailable |
| Min Players | 1 |
| Max Players | 6 |
| Language | Italiano |
| Age | 14+ |
| Duration | 120 |
| Autor | Michele Quondam |
| Ean | 8033532950415 |
| Brand | Giochix |
| Number of reviews | 0 |
Product Description
Virus è un adrenalinico gioco di avventura in cui, utilizzando uno dei 4 eroi, dovrete infiltrarvi nel laboratorio segreto in cui è stato creato il pericolosissimo Virus Q per cercare e recuperarne l'antidoto. Questo gioco sfrutta un motore di gioco in tempo reale, che potrete disattivare all'occorrenza, ma che renderà la tensione del gioco altissima durante ogni fase della partita. Avrete l'occasione di vivere quest'avventura sia in modalità cooperativa che competitiva, sfidando gli altri giocatori a chi prima riuscirà a recuperare l'antidoto e fuggire, oltre ad avere la possibilità di vivere il gioco in solitario.
Il sistema di combattimento è del tutto originale, sfruttando il cosiddetto sistema "roll the cube", in cui dovrete lanciare i cubetti della vostra riserva, ottenuti grazie al vostro equipaggiamento ed alle vostre abilità, su un'apposita plancia. A seconda di dove atterreranno, i vari cubetti risolveranno l'esito dei test. Questa originale meccanica combina in modo sapiente una fase di raccolta delle risorse, tipica dei giochi gestionali, ad una più casuale di lancio, comune nei giochi d'avventura.
Durante la vostra esplorazione, invece che riuscire a trovare l'antidoto, potreste venire feriti da uno dei mostri che si aggirano nel laboratorio, ma se il temibile Virus Q vi avrà infettato lo saprete solo al termine della partita..
Customer Reviews
This product does not have any reviews yet.