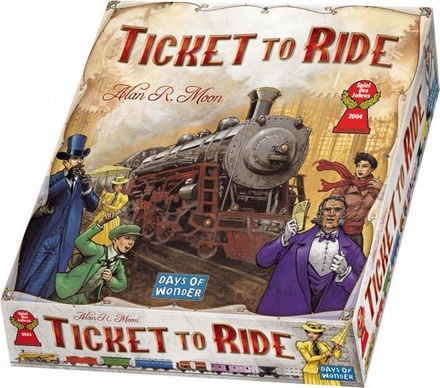 TICKET TO RIDE USA : Gioco da Tavolo in Italiano
€44.90
---
Product Information
| | |
| --- | --- |
| Product Type | Gioco da Tavolo |
| Min Players | 2 |
| Max Players | 5 |
| Language | Italiano |
| Age | 8+ |
| Duration | 45 |
| Ean | 0824968717318 |
| Brand | Asterion - Asmodee |
| Number of reviews | 0 |
Product Description
Gioco da tavolo in italiano
Un biglietto per l'avventura!
2 Ottobre 1900: Sono passati 28 anni dal giorno in cui l'eccentrico viaggiatore londinese Phileas Fogg accettò e vinse una scommessa del valore di 20000 sterline, in cui dichiarò di poter fare "il giro del mondo in 80 giorni". Oggi agli albori del XX secolo è tempo per una nuova impossibile sfida. Un gruppo di vecchi amici si sono riuniti per celebrare le mirabolante impresa di Fogg e soprattutto per proporne e compierne una nuova. Il premio: 1 milione di dollari ad un solo vincitore. L'obiettivo: 7 giorni per vedere chi riuscirà a visitare e viaggiare in più città del Nord America.
Il viaggio incomincia ora...
Ticket to ride è un'avvincente sfida ferroviaria attraverso l'America del Nord. I giocatori usano vari tipi di carte Treno con l'obiettivo di connettere diverse città. Più lungo è il percorso, più punti vittoria si accumulano. Inoltre, addizionali punti vittoria si ottengono costruendo in assoluto il tratto ferroviario più lungo o soddisfando i requisiti delle carte Biglietto.
Che cosa aspetti? Salta in carrozza ed incomincia la tua fantastica avventura ferroviaria!
All'interno troverete: 1 Plancia delle ferrovie del Nord America, 240 Carte Treno, 144 Carte Illustrate, 5 segnalini in legno, 1 manuale.
Customer Reviews
This product does not have any reviews yet.