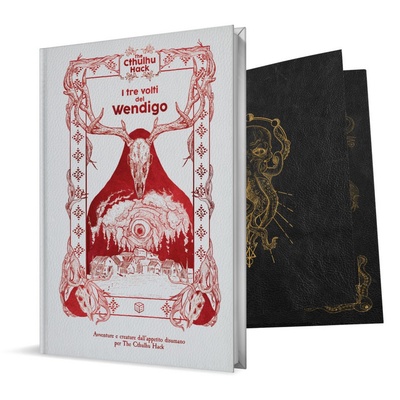 The Cthulhu Hack: I Tre Volti del Wendigo + Schermo
€24.89
---
Product Information
| | |
| --- | --- |
| UPC | MSECHWNDG |
| Product Type | Gioco di Ruolo |
| | Italiano |
| | MS Edizioni |
| Number of reviews | 0 |
Product Description
I Tre Volti del Wendigo è una serie di avventure per The Cthulhu Hack nelle quali l'elemento principale è proprio la creatura leggendaria del Wendigo. Ogni investigazione esplorerà differenti credi e raffigurazioni di questo demone, durante tutto il ventesimo secolo, e porterà i giocatori a confrontarsi con un essere dall'appetito disumano, che affonda le sue radici nelle tradizioni e nella mitologia dei nativi americani.
Questa esclusiva edizione italiana contiene tre avventure:
Lupi nella Montagna - Qualcosa di alieno e oscuro attende tra le montagne, qualcosa al di là di ogni immaginazione. Sarà un bagno di sangue!
Belli, Scuri e Profondi - Gli Investigatori si recano nelle selvagge terre canadesi per una battuta di caccia, ma ben presto inizieranno a chiedersi chi è veramente il cacciatore e chi la preda. 
Carne Contaminata - Gli Investigatori sono costretti a una sosta imprevista nel paese di Newcome, e vengono accolti con particolare calore e ospitalità. I momenti più duri sembrano ormai alle spalle... o forse devono ancora arrivare?
L'edizione italiana de I Tre Volti del Wendigo contiene anche lo schermo del Game Master che comprende tutte le principali tabelle utilizzate in una partita di The Cthulhu Hack.
Gli argomenti trattati sono adatti a un pubblico adulto.
Customer Reviews
This product does not have any reviews yet.
Recommended items